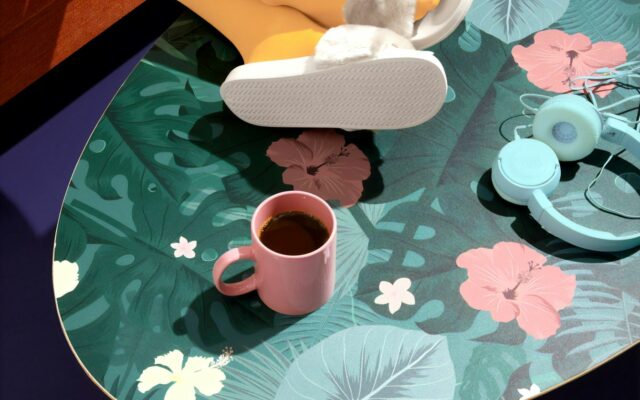 24/11/2022
It's cold and we're all scared to the put the heating on. November is all about being snuggled up under a blanket, hot chocolate in one hand and the TV remote/Kindle/Mobile in the other.  
Here at Fever we're all about entertainment and with the weather just SO GLOOMY we as a team have decided to share what we're watching, what we're reading and what we're listening to on these cold, dark days.  
WATCH
GANGS OF LONDON
British action–crime drama television series produced by Pulse Films & Sister is back and they didn't hang about. The action-packed drama follows the most dynamic and multicultural gangs in London as they battle with power.  
After series one ended on a cliff hanger with main character Sean Wallace being shot in the face (quite literally) series two hits the spot with a gut-wrenching storyline.  
I don't want to give anything anyway but if you're looking to spend a weekend glued to the TV then it's available to stream on NOW with an Entertainment Membership… now!  
Rating: ⭐⭐⭐⭐⭐ 
Luan! LUAN!! He's behind you!!
PS What kind of monster doesn't clean his knife? pic.twitter.com/ztyV6os2Vq

— Gangs Of London (@gangsoflondon) November 19, 2022
WATCH #2
WHITE LOTUS
Now I've only watched two episodes but nevertheless, it's back.  
The dark humour comedy series returns with as much social awkwardness as series one. This time they swap tropical Hawaiian climates for the beautiful island of Sicily.   
And even better news is that Jennifer Coolidge is back playing billionaire Tanya! 
Rotten Tomatoes describes it as "a cookie full of arsenic that goes down smooth" and I couldn't put it better myself. 
Rating: ⭐⭐⭐⭐1/2 
What we'd do to be that aperol right now…🍹#TheWhiteLotus pic.twitter.com/GtWHxINgTS

— Sky TV (@skytv) November 13, 2022
READ  
COULD WE BE ANYMORE READY TO READ THIS? 
Last month, actor Matthew Perry released his memoir 'Friends, Lovers, and the Big Terrible Thing'. 
Eagerly awaited, the book is an incredibly open, intimate and self-aware page-turner as Matthew takes you through his life journey from a very raw (and slightly cocky at times) human perspective. 
Utterly heart-breaking in places as Matthew discusses addiction, losses and his mental health battles, tackling hard-hitting topics all of this with absolutely honesty and throws in his trademark humour that makes you feel as if you're almost in conversation with him. 
It's an interesting perspective on another person's world; the ending is so much more positive, and you feel like he's got it together at last. 
Rating ⭐⭐⭐⭐1/2  
LISTEN
BETWIXT THE SHEETS: THE HISTORY OF SEX, SCANDAL & SOCIETY  
Created by historian Kate Lister (of Whores of Yore fame) this podcasts takes you through topics that your history teacher left out. Here you'll find everything from the history of boob jobs, Queen Victoria's eating habits to Gothic Fiction and The First Queer Activist,  Karl Heinrich Ulrichs.  
Nothing is off limits here, and you're sure to be laughing while learning.  Like did you know that Horace Walpole pretended that The Castle of Otranto was a true story, and that Dracula is 'a daddy'?
Bet you didn't.  
Rating ⭐⭐⭐⭐  
LISTEN
SPOTIFY PLAYLIST OF DREAMS  
Rating: ⭐⭐⭐⭐⭐ (Because we curated it) 
I know, Pip Millet -

I love listening to it and it's really nice to sing to 

 

Clara (The Night is Dark)

by Fred Again –

I know he's all the hype at the minute, but this track is a

belter

.  Feels melancholic yet full of hope and optimism which I am feeling for 2023!

 

Satellite by Harry Styles –

As much as I love the whole album, and Harry's House is probably my favourite Harry album ever, this song just is good vibes to me and a go-to listen when I'm driving.  

 

About Damn Time by Lizzo -

It was my FAVOURITE SONG throughout summer, it has the catchiest tune and Lizzo is an absolute QUEEN.

 

Go Goddard remix by Cat Burns –

Because I feel like I am 18 again dancing to jungle *says the 40 year old. 

 

Calm Down by Rema –

I like to listen when I need to slow down and take a step back from work 

 

Simulation Swarm by Big Thief –

 "I love Big Thief" Dan Wong.

 

Music For A Sushi Restaurant by Harry Styles –

… Because what a random title for a song, its infectious 'bah, bah bah' in the background (which my two year old now requests) and memories of sitting by a pool in Italy during the summer and listening to it

non stop!

 

The Car – Arctic Monkeys –

As the office's token Yorkshireman, I suppose it falls to me to mention Alex and the Boys. It's an almost impossible task to pick just one track from the new AM record –

Mirrorball

,

Jet Skis on the Moat

and

Hello You

all need a mention. It's been a long wait since a Suffolk farmer accidentally broke the band's cover and announced they were recording again, but

The Car

was well worth the wait. 

 

Wet Dream by Wet Leg –

Could not stop listening to this song when I first heard it. Gave me main character vibez.

 

You Forever by Self Esteem –

Self Esteem has been my favourite newly discovered artist of the past 12 months hands down, was lucky enough to see her live and she was amazing. You Forever is my current favourite, it's upbeat and with some nice emotionally cutting lyrics, good one to chuck on to boost the mood and get some angst out. 

 

Miracles by Alex G –

#softbois4eva

 

Letter To Ur Ex by Mahalia –

I like this tune because it's a fun mix between an upbeat indie party song that has been crossed with a sad ballad aimed at your 'ex', the song keeps you guessing throughout as the tempo constantly tempo. 

 
SUBSCRIBE TO OUR NEWSLETTER:
Categories