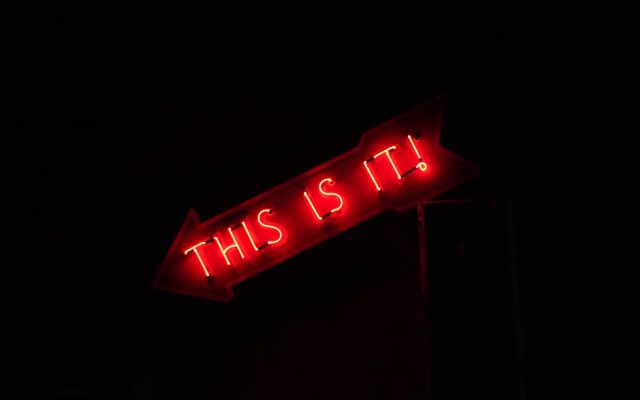 07/01/2022
2022: Contradictory Forces To Compete and Rebellion Will Reign (and we can't wait)
Right 2022. Let's be having you.
But what exactly is in store for us all this year? Our Fever leadership team have been musing on this as we dust our kitchen offices off once again and settle into the toddler years of the '20s. So, is 2022 going to be a 'terrible two'? Or will this be the year the roaring twenties 2.0 finally gets well, roaring?
Read on to find out what our crack board team think this year will look like.
Riding the 'rona rollercoaster(s)
As the great Ronan so rightly predicted way back in 2000: 'Life is a rollercoaster Just gotta ride it' and, unfortunately, we're still well and truly riding it.
In 2022 people are (still) going to be looking for light relief against the grim backdrop of Covid, rising inflation and global political and social instability. But for brands to get this right they need to understand the nuances within, as well as between, audiences. The widening economic gap between the affluent and those on the breadline means audiences are more fragmented and disillusioned than ever. There is no one dominant national 'mood' to tap into, very few trends that resonate across different groups we can harness and the notion of 'culture' we typically draw on to help spark ideas that capture the zeitgeist is increasingly contradictory and multi-layered. And, of course, the media landscape is shifting and fracturing. All this suggests we'll see brands producing a greater number of hyper targeted campaigns designed to engage with smaller influential audiences versus big-budget, awareness driving campaigns. And for these campaigns to succeed they need to be truly authentic which means becoming immersed in the lives of these audiences and aligning with the right partners to infiltrate their world in a meaningful way.
Rebel Rebel (we hope)
After 2 years of playing by an immeasurably large rulebook in our professional and personal lives, we predict a streak of rebellion in 2022. The ongoing effects of the pandemic, coupled with racial injustices and an increasingly precarious political landscape, mean people and organisations are getting more adept at standing up for what they believe in and aren't afraid of going against the grain. Genuine social consciousness will become more prominent than ever in the PR world and so we also predict brands behaving more confidently in the year ahead without the same level of restraints in place.
Play into People's Consciousness
Social Consciousness will become even more important in brand comms. It isn't new, but it certainly isn't going away in 2022; brands need to be communicating with a conscience and social purpose. 2021 was dominated by Diversity and Inclusion, and COP26 put an even bigger spotlight on the environment, and there's no doubt both will continue into this year, alongside wider themes such as sustainability and community. Brands that win in this space will be win because of authenticity, longevity and real impact. But whilst purpose-driven campaigns will still be central to comms they will need to be executed with a sense of playfulness and humour because, in 2022, the last thing any of us are going to want is to be preached at.
Things can only get Meta…
Will the metaverse be the new 'float it down the Thames'? 2022 will see the concept of the metaverse seep into the nation's consciousness, and what it actually offers begin to be seen rather than just talked of. Whilst the metaverse could offer a whole new stratosphere of creative opportunities, brands also need to be careful to think about their long-term commitment and investment or we could end up with meta graveyards of badly executed virtual 'stunts' (shudder) before we've even navigated the world itself. And most importantly think about how it can exist alongside the personal experiences people crave… which brings us to…
In person personality
Against the backdrop of what was another year of uncertainty and restrictions, 2022 will be all about trying to re-establish personal connectivity – whether that be meeting journalists face-to-face rather than behind a screen, to brands having to humanise the way they communicate to consumers who have learnt to strip things back to what really matters. There's power in truth, from authentic storytelling to doing something of meaning.
Hello Hedonism
2022 is going to be the year of indulgence and a continuation of the hedonism we saw at the end of 2021. The looming threat of further lockdowns means that Brits in general will be looking to prioritise pleasure in 2022 – booking those exotic holidays they've been putting off for years, buying those items they told themselves weren't a priority last year and going out when they feel like it. Brands looking to win in 2022 need to think about ways in which they can help people prioritise pleasure, happiness and adventure in their lives.
So there you have it; hedonist social consciousness or the metaverse in person?
Yes it's contradictory but that in itself makes perfect sense for 2022. We've had two years of pivoting and responding, rather than being able to take control of our own destiny so it's no wonder 2022 is seen as a year of multiple possibilities. And we're also in a behavioural flux, with our screen centralised habits of the past two years jostling for poll position with our craving for more real-world living.
Let's get ready for a year where we can stop pressing the pause button on life. We are manifesting for ourselves a great 2022 and look forward to working with our amazing clients to make that happen for them too.
SUBSCRIBE TO OUR NEWSLETTER:
Categories