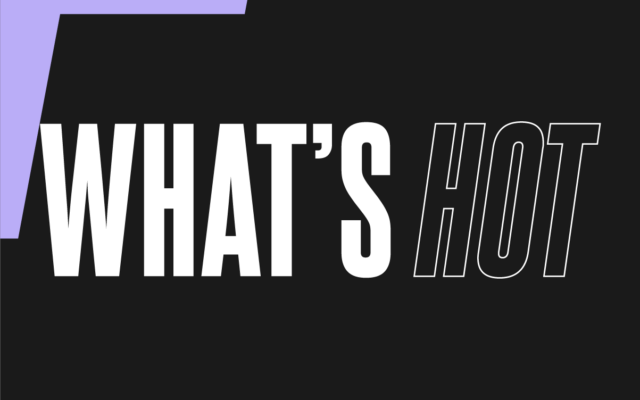 06/05/2022
It's been two years of What's Hot and it's time for Paris Hilton herself (ok me) to hang up her stilettos and let someone else takeover the decks (did you know that Paris Hilton gets paid up to £1 mil for a DJ set these days?! See you in Ibiza losers!)
Like any narcissist, I'm dedicating this final What's Hot to myself and my five favourite musings over the last two years so be prepared to take a trip down memory lane with me…
Just kidding, this one is for all the Feverlings who made me laugh the hardest, impressed me the most with their drinking ability, ordered me a taxi home, and of course, kept me up to date with What's Hot.
Peace out,
PH/YO x
Entry one: Is Snapchat spying?
AKA: The one where we tell our audience that they are idiots.
Back in November (2021), the mystic Megs among us were delighted with the introduction of Snapchat's Astrological Birthday feature. This nifty feature included insights into whether you were compatible with your Snapchat friends and offered 12-page horoscopes, summarising everything from your love life, to money management to your untimely death… (okay 12 pages is a lot – no one knows what was on those last five. We can only assume.)
However, this week Snapchat has been under fire with people realising the app knew their exact time and date of birth – spooky! While it's unlikely Snapchat spoke directly to your mum or sneaked a look at your passport, users were worried about what data Snapchat has access to. The answer? Data you manually inputted yourselves… Snapchat is now over 10 years old, meaning some of us entered this data back in the days of choosing the four subjects to take for A-Level. It's fair enough that we could forget sharing these intimate details with the app, given I can't even remember what my GCSE results were. So fear not guys – Snapchat isn't sneaking through hospital records. You handed over that info for free.
Entry 2: The one to watch: Paddington 2.
AKA: The one where we upset the many famous film critics who read this blog
The big news of this week (December 2021) was the fact that a marmalade sandwich eating bear finally overtook Citizen Kane as the best rated film on rotten tomatoes. A classic, Orson Welles' 1941 film is a cinematic masterpiece, however it sadly lacks Hugh Grant and therefore is simply not as good as Paddington 2.
Paddington himself has spoken out about the incident on Twitter, hoping "Mr Kane won't be too upset". But honestly, Paddington shouldn't bother with who he's hurt to get to the top. The whole situation begs the age-old question: what's a King to a God?
Entry 3: The one you have to see: Caterpillar court
AKA: The one where we reveal Fever's Official Caterpillar Correspondent
It's the ultimate food fight: Colin vs Cuthbert.
That's right, Marks & Spencer has lodged an intellectual property right claim over Aldi's near-identical caterpillar cake, Cuthbert. I feel that I can speak on this at an almost expert-level, as Fever's official Caterpillar Correspondent -my friends and I have spent years rating and evaluating the various caterpillar cakes from UK supermarkets.
The question most people are asking is why Aldi? Why Cuthbert? Why not the others? To an expert, the answer is obvious, but I see why it may not be to the layman. Cuthbert is the only wannabe who also has a white chocolate 3D face (the others are either 2D printed icing or 3D icing). He's near identical, and well, he's supposed to be. It's Aldi after all.
A whopping £2 less than M&S, he's only £1 less than a Colin dessert pot (don't get me started on those – I'll buy a full price Colin and cram him into a jar myself, thanks).
If you would like to fully understand the issue and find out what could happen next, we would recommend watching Judge Rinder's BBC interview.
Personally, though – who cares? I'm a Wiggles girl.
Entry 4: The one you need to see: London's mediocre pubs
AKA: The one where we sort out your Friday night
There's one word on everyone's lips this week (April 2021): "Pub". It's a single word that simultaneously is both an answer and a question, as versatile as the establishments themselves – which can skip between being a dancefloor, a quasi-therapists office, a family dining table for Sunday lunch, and this week; a place of joyous reunion. We can't help but imagine that the inside of every pub this weekend will be the exact same vibe as Hugh Grant's airport speech in Love Actually, only with less hugging.
For those who failed to book a pub six weeks in advance, the FOMO must be unbearable. But fear not. The Fence Magazine has pulled together a list of London's Most Mediocre Pubs, those that aren't quite amazing enough to be fully booked, butnstill, arguably, better than a tinnie in the park. Read the 'Europa League' of pubs here.
Entry 5: Memojis
AKA: Another excuse to talk about how I'm in love with my Memoji
I'll be the first to admit: I'm obsessed with my Memoji. I think she is the cutest thing in the world, yet also somehow also looks exactly like every caricature I've paid way too much money for on the side of a European beach. I adore replying to texts, not with a winky emoji, but with winky mini-me, or using her sad little face to gain more sympathy than a ☹ could ever secure.
Anyone could have put a sure bet on me being the perfect audience for avatars, creating more as soon as I got the chance. But when Facebook launched theirs, it felt… Flat? Late? Boring? Useless?
It's not like Memoji was first to the game. I had a brief affair with a Bitmoji, and the little snapchat maps where you spied on your friends' boyfriends. So, if it's not about who came first, it must be about how we use them. Facebook says you can use your avatar in three ways: On messenger, in a story, or as a comment.
The issue with creating avatars for messenger is that we already have Memojis – so what's the point? In terms of using avatars alongside your real self in a story, Facebook is 19 years late – Lizzie Maguire owns this space.
Then, we must find a use for avatars as comments. But, that feels a bit weird. We all know that what you post, comment on, or share on Facebook goes far wider than we could imagine. For all its efforts, including it's foolish rebrand, Facebook hasn't quite regained the public's trust yet. Would you ever comment on a meme using a picture of yourself? No? Would you comment instead with a small cartoon with your likeness? Again, the answer seems to overwhelmingly be no. After all, Bitmoji was confined to your Snapchat friends. Memojis are shared via text or WhatsApp – again, only amongst people you carefully select. Whether avatars will manage to take off in the same way is yet to be seen.
Maybe Facebook avatars aren't all bad. Perhaps we're just too attached to our cute-as-a-button Memojis. But how can you say no to this face?
SUBSCRIBE TO OUR NEWSLETTER:
Categories