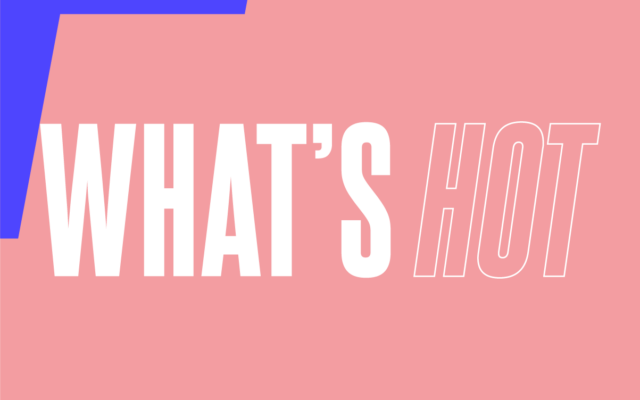 20/05/2022
Cucumbers, N-Dubz, Peter's Chipolata and a banging NOW campaign (not so humble brag from us given it's our client). What's Hot this week, brought to you by Fever HQ.
Disclaimer, and not get all meta about this, but we wrote this up on Thursday because of our annual agency kick off meeting so if anything particularly hot has happened on Thursday evening or Friday morning then please don't @ us.
Na na naiiii!
On top of what's already been a stellar year for musical reunions, noughties teens everywhere we're given the shock of their little millennial lives on Monday after the iconic three-piece R&B outfit N-Dubz announced their anticipated comeback – time to dig out those woolly chullos!
In a surprise Instagram posts across the three members' accounts, as well as the official N-Dubz page, the trio announced their comeback in style with all three members spotted hopping out of a helicopter, to the backdrop of new N-Dubz music, which surely got the die-hards' hearts racing.
The group's new single, "Charmer", released yesterday and their triumphant return to the scene is a damning indictment on their timekeeping skills as it comes 11 years after the group initially stated they would be taking a two-year hiatus. At least the break led to stellar solo careers for Tulisa, Dappy and Fazer.
Wagatha Christie
We're taking it all the way back to October 2019 for the ICONIC post that ended with "it's………. Rebekah Vardy's account." And yes, there were actually ten dots, we went back checked. And, if you don't know what we're talking about… (only three dots, we don't claim to be Rooney levels) where have you been?
It all began when Coleen Rooney believed someone close to her was leaking information to The Sun newspaper and the only logical(?) next step was to work to deduce who she thought was responsible for this. As only the best detectives would do, Coleen shared a range of made-up stories on her Instagram, restricting who could see them before narrowing down who she believed to be the culprit.
18 months down the line and we end up here, mid-trial, with quotes about chipolatas (soz, Peter) and phones at the bottom of the North Sea ringing in our ears. We're left wondering who will 'win' in the court of public opinion? Ultimately that's what really matters, and in the pursuit of legally clearing their names is there simply too much dirty washing being aired in the pages of the tabloids?
A First-Class NOW Experience
Get ready to head to your boarding gate and take off! Well, kind off…
To celebrate the launch of season two of The Flight Attendant, Fever has worked with streaming service NOW to give the show's UK fans a chance to experience all the luxuries of first-class travel without breaking the bank or even leaving the country.
Attendees will receive free luxury beauty and wellness treatments – including access to an Oxygen bar, an LA-inspired manicure, and a CBD massage all while being served mocktails and canapes from dedicated attendants inspired by flight attendant turned CIA asset Cassie Bowden (Kaley Cuoco), and the other Imperial Atlantic crew members. Those in attendance will then get an exclusive preview of the first two episodes of the season.
The event has so far been covered by the likes of HELLO!, Daily Express, The List and All in London. Head down The Cinema at Selfridges on May 25th and 26th as we have a few spaces reserved for walk-ins!
Cucumbergate 
The Kardashian/Jenner family are never far from a news headline are they? Whether it's the new Kete romance (Kim and Pete Davidson, yes, we ship), newlyweds Kourtney and Travis and their questionable editing skills – those walls seem to be bending in line with your hips, guys. Don't get us wrong we love watching and keeping up with the Kardashians BUT this week, it's gone a step too far. We're talking about cucumbers.
How does one cut a cucumber I hear you ask? Not a very common question, admittedly. Well, here's a tip, don't ask Kendall Jenner because apparently she has no idea.
If you've not seen it yet, do so at your own risk because we've not been able to stop thinking about it since we gathered round and watched the clip from their new show 'The Kardashians'.
If you have yet to watch, let us paint you a picture. Kendall attempted to come at it with a knife in her right hand, steadying it by first placing her left hand on the open end of the vegetable extremely close to the knife. She then stretched her left hand over her right to grab the 'butt' of the cucumber, before continuing to cut it. If that confuses you, then yes it was that confusing and that painful to watch, but at least she tried(?) and just about didn't cut her hand off or 'call for the chef'. After backlash on twitter, she even called it 'Tragic' herself, and sorry, Kendall but yeah, it wasn't great.
Everything Everywhere All At Once
A24 is back at it again, the distributor has been pumping out the best in cinema for a while now and EEAAO – yeah, we're not typing all that out again – might be its biggest yet.
Written and directed by Dan Kwan and Daniel Scheinert, this is definitely not one to miss. The film follows a Chinese immigrant who is struggling to make ends meet and maintain her relationships. Relatable enough human story.
And then, Evelyn, our protagonist, discovers she has a power, which leads to a weird and wonderful multi-dimension adventure. Move over Cumberbatch and shocking Brent facial hair.
The captivating plot and cast of fan-favourites and rising stars has led to glowing reviews and social media buzz. London's Prince Charles tweeted that the opening weekend was it's biggest since re-opening post-Covid.
So if you're looking to hide from the rain or sun, who knows, then head to your local indie and settle in for an epic.
Now, back to our hangovers…
SUBSCRIBE TO OUR NEWSLETTER:
Categories