You B-OKquet Mate? Teaming up with Professor Green to launch a range of blooms for bros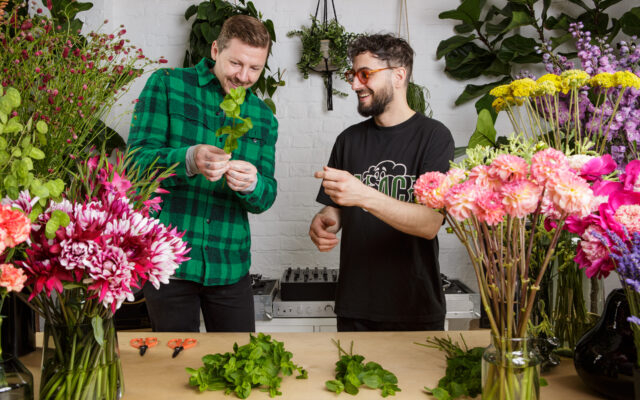 12/08/2021
You know you've hit on an idea that really resonates when Phillip Schofield, Jamie Theakston, Ben Shepherd and Pro Green all post about your story in the space of 24 hours.
When was the last time you gave one of the men in your life a bunch of flowers? If you're anything like the 44 per cent of people who admit they've never gifted a guy a bouquet, then the chances are never.
Our client Funny How Flowers Do That's mission is to promote the myriad benefits of flowers; from boosting mood to connecting friends and family. But with flowers off the gifting list for the majority of men it struck us as unfair they might be missing out on all these good things; simply because of unhelpful gender stereotypes and an outdated perception of flowers as 'feminine'.
So, we brought in rapper, CALM ambassador and flower fan Professor Green and Matthew Richardson of the Urban Flower Company, to combat the stigma around gifting men flowers.
Together they designed beautiful bouquets designed to be sent from men to men with a message asking simply 'You B-Okuet mate?'. With all proceeds going to CALM, the bouquets encouraged men to speak openly about mental health and strengthen social connections, all whilst challenging the notion that flowers are mainly 'for women'.
Our in-house Fever Studio captured the creative design process between Pro Green and Matthew – as well as the finished bouquets – with stunning photography, 60 second hero video and social edits telling the story behind the campaign.
We gifted blooms for bros to high-profile media and presenters with Philip Schofield, Jamie Theakston and Ben Shephard all sharing social posts and Stories in 24 hours. Coverage landed across national and lifestyle media with a total reach of 277m; including pieces in the Independent, The Sun, Metro, Daily Star, Express Online, Lad Bible, Red, OK!, New, Marie Claire, the bouquets sold out AND we raised funds for CALM. A blooming success for everybody.
SUBSCRIBE TO OUR NEWSLETTER:
Categories