25ft Jeff Goldblum marks 25yrs of Jurassic Park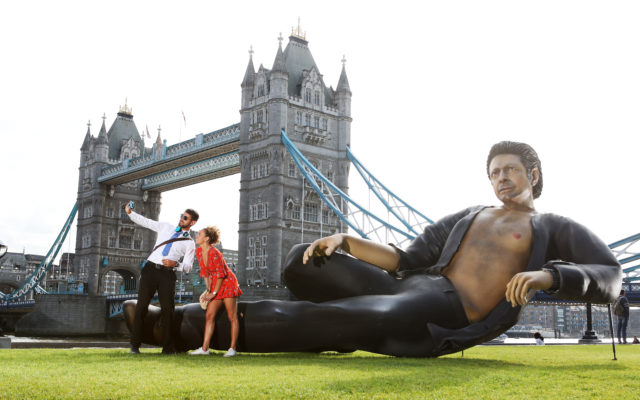 18/07/2018
"Celebrating the original film's 25th anniversary, the marketing stunt from Now TV and Fever PR is an instant classic." – Ad Week, New York
To celebrate the 25th anniversary of Jurassic Park, availabile on NOW TV, we've unveiled a Jurassic-sized sculpture of the film's heartthrob Jeff Goldblum. It's already making Londoners even hotter under the collar.
We've done some pretty weird and wacky things with NOW TV over the years, from a game of lamb football and a Troll salon to a John Cleese / Walking Dead mash-up, but this has to be our sexiest so far.
The 25ft sculpture plays homage to one of the film's most iconic (and most memed) scenes – the one where Dr. Ian Malcolm took takes a sultry breather with his shirt unbuttoned after a Tyrannosaurus Rex attack.
In the 24 hours following the unveil there were
25.2k tweets
mentioning Jeff Goldblum, with a cumulative reach of 246.8m, creating an estimated 285.5m impressions! Giant Jeff was a
top 10 UK trending Twitter
topic all day.
Jeff went global with coverage from Africa, Australia, New Zealand and Bangladesh with an abundance of coverage in the US. CNN Travel, Fox News, E! Online, USA Today, Good Morning America and New York Post, among many others, picked up the conversation leading to Jeff Goldblum trending on Google in the US as well.
We've seen over 150 pieces of coverage (and counting) including features on ITV News, Good Morning Britain, The Metro, Daily Mirror, The Guardian and many more…
Top top it off, Jeff Goldblum himself shared our pic on his Instagram, rating it '10/10 Goldblums'. His post has had over 191k engagements so far making it his most liked image on Instagram ?
SUBSCRIBE TO OUR NEWSLETTER:
Categories