2K and Beavertown launch 'Bandit Brew' IPA – a Borderlands 3 inspired beer brewed for GAMING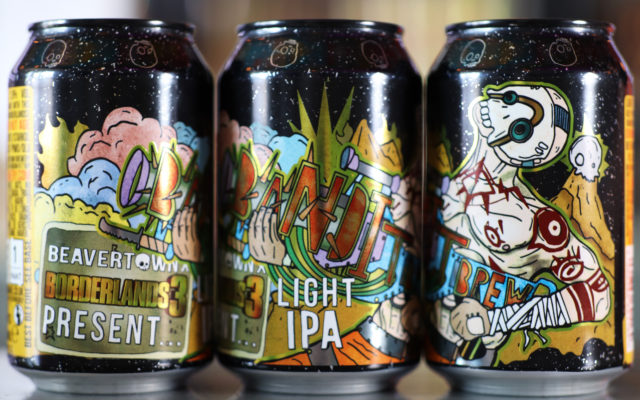 30/09/2019
The biggest beer brew mash-up of the century!!! MORE GUNZZZ, MORE BEER!!
2K announced a one-of-a-kind holy matrimony partnership with London-based craft brewery Beavertown in celebration of the release of Borderlands 3, brewing a new, customised light IPA (2.8%) that truly captures the mayhem and madness of the shooter looter – introducing… Bandit Brew.
Aptly titled – this 2.8% light IPA is created out of a joint love for action packed gameplay, wild in your face graphics, and having a bloody good time. The stealthy ABV slips unseen into the background bringing tropical notes of Pina Colada, passion fruit and fresh citrus forward, complete with a dry, bitter finish that leaves you thirsty for more. Specifically designed as a light session beer for fans of the franchise to enjoy while playing Borderlands 3 with their friends.
Available in the UK and only on a limited run, Bandit Brew is available for from shop.beavertownbrewery.co.uk and in stockists nationwide, plus Loading gaming bars in London and Brighton and bars across the UK.
An exclusive tasting session for media at Beavertown Brewery was held ahead of the launch, followed by a media launch party at Beavertown HQ, and a tasting day for consumers to try the IPA for the first time as well as hands-on time with Borderlands 3 on launch day – who doesn't love a craft beer and a bit of mayhem gaming?
In addition to this, over 120 crates of joy in the form of Borderlands 3 x Beavertown mailers were sent to media and influencers. These were stacked with Bandit Brew cans, a bespoke t-shirt, a limited edition poster, badges, stickers and coasters! 
Attendees were buzzed and we've seen over 70 pieces of media on the likes of Mirror Online, Shortlist, Craft and Slice, GQ – the latter of which said "this is truly 2019's greatest collab to date" (and we're already in September, so). 
Borderlands 3 is OUT NOW!
SUBSCRIBE TO OUR NEWSLETTER:
Categories