Ain't notin' but a chicken wing thang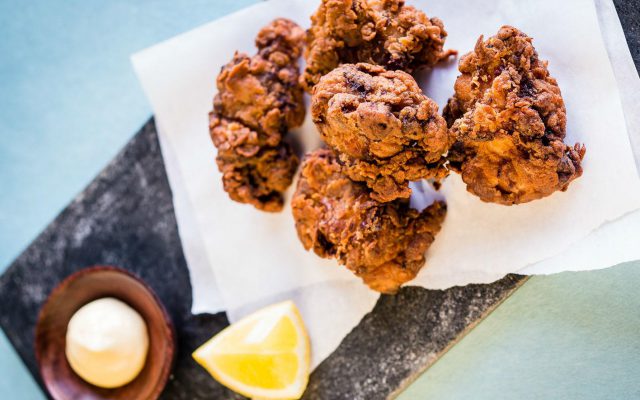 03/03/2017
We're not going to lie to you, we're completely obsessed with chicken at Fever. It's at the detriment to our waistlines, but here within this building lie both the queen of chicken and king of chicken. The King of Chicken is a man that finds himself in establishments such as Chicken Spot, Morley's and Chicken Cottage. However, the Queen of Chicken finds herself in the finer places. It's a kingdom divided.
On this occasion the queen has won out, so see below for our guide to the plucking good chicken shops of Soho
JinJui – http://jinjuu.com/
So you're expecting a pretty standard Korean style menu. And then you see… a whole fried chicken. With tangy Korean spices, homemade batter, and did we mention A WHOLE CHICKEN?, How could you possibly go wrong. Add a bit of soy sauce, and the tangy hot sauce and Bob's your uncle. Mind you she isn't cheap so it's one to take the parents to. "Look Mum, I'm earning all the money (but feel free to pay)."
Red Dog Saloon – http://www.reddogsaloon.co.uk
The place for wings. On a Wednesday you can show up without booking and low and behold – 50% extra wings. That's right! Buffalo is of course the favourite, but if you're feeling daring, the maple and bacon flavour is the way to go. Or if you're feeling kinda spicy, the Korean BBQ one is great. And if you're really in that indecisive Gemini mood, they also do a 12 Wings Sampler to cater to all your taste buds.
Absurd Bird – https://www.absurdbird.com
Another good joint for wings (geddit). Again, offering them in five luscious flavours. These guys have definitely changed their recipe recently and the wings are succulent, juicy and you'll never need to eat again. Monstrosities of portions, and in wing size – we love it! This isn't a place you'd take for a first date – maybe the fifth… as your hands will get grubby, as will your face.
Ma Plucker – http://maplucker.com
It would be rude not to mention this one. It's a stone's throw away from our offices and received this year's runner up as one of the best chicken places in London. Whether it's the Crack and Cheese you're after, or the Classic Bun, or even a waffle; this is place to be. We can't recommend its maple chilli glaze highly enough. Sweet and sour – that's what we're sayin'.
Joe's – http://joessouthern.co.uk
It's the final straw, and it's not even in Soho but it would be absolute sacrilege not to mention Joe's. There's one in Kentish Town and one in Covent Garden and they both serve the same menu, the same cocktail, and most importantly – the same wings. The Queen of Chicken's favourite place. They do a whole bucket of 50 wings for £32.00 and we've seen people eat them alone (heroes). If you're planning on pitching up for a long night, this is THE place to go. Have a lychee cocktail, have a sit down and let the wings come flying at you. The chaps even have their own bespoke spicy BBQ sauce, and standard BBQ sauce. It's not one to miss if you're down in the big smoke.
If you're about in Soho, we definitely recommend that you check these places out. You won't be disappointed. The Queen of Chicken is on the hen's back and will have some more establishments for you to try soon, in the meantime, enjoy!
SUBSCRIBE TO OUR NEWSLETTER:
Categories