#BaubleMe – our latest campaign with Sony Mobile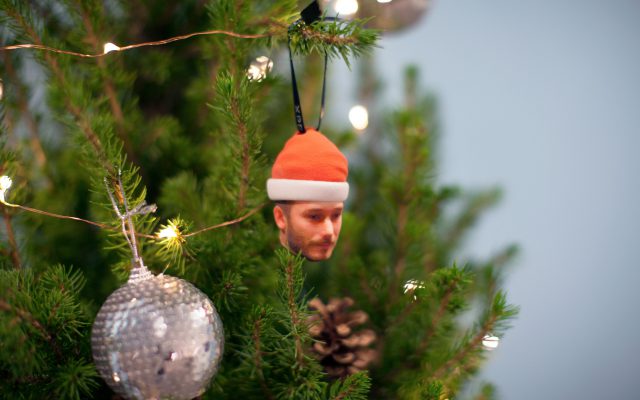 29/11/2017
This Christmas we've been working on all things #BaubleMe – our festive campaign for Sony Mobile. Utilising the XZ1 and XZ1 Compact's latest technological advances and 3D printing by Digits2Widgets, we've scanned faces the length and breadth of the country to create fantastic 3D creations that turn people into baubles.
First off we sent them out to media and influencers. Fever's very own Christmas elves took to the mean streets outside our cosy Soho office to various publishing houses around the country, scanning key journalist's heads and presenting them with their very own bauble. We scanned the faces of 80+ journalists, which resulted in us securing coverage in the likes of the Daily Star, MTV, Glamour and Digital Spy.
For the main event we took the 3D scanning capabilities to both Westfield Stratford in London and the Arndale Centre in Manchester so visitors could have their very own 3D baubles made, alongside securing listsings coverage for the experience in the likes of Manchester Evening News and AllinLondon. Across the two pop-ups we had over 140 Xperia customers scanned, making 140 very personal Christmas trees.
.@SonyXperiaGB scanned @AlexToddyTodd's head using the #Xperia XZ1's 3D Creator app and turned him into a #Christmas #BaubleMe. You'll be able to do the same at @WestfieldStrat (on December 2nd/3rd) & @ManArndale (on December 9th/10th) pic.twitter.com/b6YmRizcTo

— Recombu (@recombu) November 28, 2017
The 3D fun doesn't stop there. The icing on the cake was working with two of the nation's favourite faces, Freddie Flintoff and Jamie Redknapp, who also go the 3d Bauble-Me treatment. As part of the wider campaign, Freddie pranked Jamie in a short spoof video by getting into his house and decorating Jamie's tree and door with lots of little Freddies. Using this as another opportunity to get eyes on the campaign, we captured and sold in BTS photography from the shoot as an exclusive -resulting with the Daily Star Saturday running the picture on the weekend of the Manchester activation. Freddie and Jamie's work didn't finish there, we also secured interviews with Metro Online and Daily Mirror Online to spread the word and Christmas cheer. We're definitely not on the Naughty list this year!
Check out the look on Jamie Redknapp's face when he sees what I got him for Christmas this year. Classic! @sonyxperiagb #BaubleMe #ad https://t.co/Z8txcM4vTt pic.twitter.com/95B2qoEa58

— andrew flintoff (@flintoff11) December 12, 2017
SUBSCRIBE TO OUR NEWSLETTER:
Categories