WHEN WE ALL FALL ASLEEP, WHERE DOES OUR COVERAGE GO?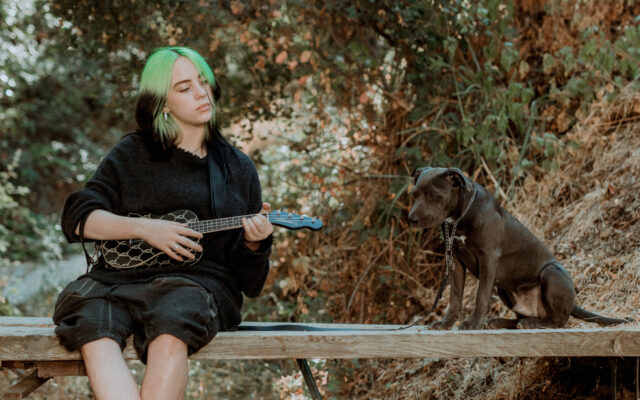 24/09/2020
Queen of moodiness, green hair and Bond theme tunes, Billie Eilish is indisputably an icon.
A singer/songwriter who caught the world's attention when she was just 15 years old and has since gone on to enjoy the kind of success most 21 year olds only DREAM of. So what comes next when it seems you have it all? Immortalising yourself in ukulele form, of course.
To celebrate her fabulous-ness (yes that's a word in our vocab), we have been working with our own icon in residence, Fender, to launch their brand new signature ukulele designed in her honour, as part of their Artist Signature Series – a line of guitars dedicated to heroing legends in music.
A stylish little firecracker, Billie Eilish's Signature Ukulele is as iconic as the star herself, featuring a matte black finish with the singer's "blohsh™" symbol and a Fishman Kula preamp for those looking to plug in.
We shared news of the launch with a targeted announcement to our top media contacts, ensuring everyone that was anyone knew that Fender and Billie were bringing the uke back.
We also gifted select media their very own ukulele so they could channel their inner Billie (although green hair dye was not provided), alongside a free Fender Play code to nail her much-loved chords and riffs.
Other superstars we've helped to honour include Shawn Mendes and his Shawn Mendes Foundation Musicmaster and Tom Morello and his Soul Power Stratocaster.
The team absolutely smashed the Billie Eilish Ukulele announcement out of the stadium with a tonne of amazing pieces, including the likes of BBC Radio 1, Capital FM, Metro, Evening Standard, Dazed, GQ, NME and many many more!
What else could we ask for? Except to be queen Billie of course.
SUBSCRIBE TO OUR NEWSLETTER:
Categories