Burger or Bourbon? Fever visits Taste of London festival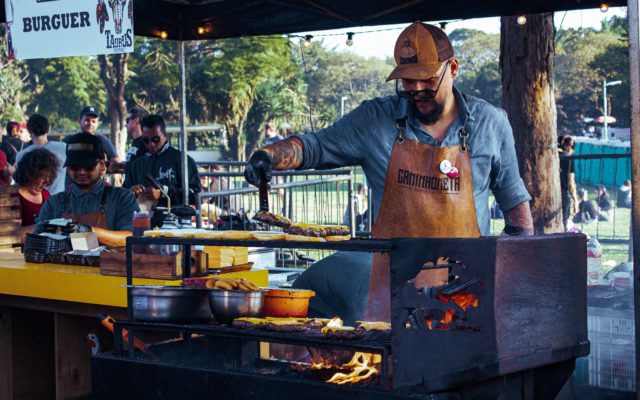 24/06/2019
Last week we paid a visit to Taste of London, with hungry eyes and empty bellies, ready for a lesson in indulgence at the capital's popular food festival.
Whilst there was a selection of different cuisines on offer in Regent's Park, including cheese wheel pasta at Sartoria, classic Indian street food at Kutir and the creamiest of cheesecake at Pleesecakes, it became obvious that the main attraction of the festival wasn't food, it was drink.
It was here that brand creativity shone through in experiential group activities. From Ketel One's cocktail making masterclasses to gin-tasting at the House of Tanqueray, beverages were in no short supply. It got us thinking, has our drinking culture replaced our appetite for good grub?
Even Fiji Water had an expanse of land, allowing people to "take a break, sit back and enjoy the signature soft, smooth taste"  … of water.
Hattingley Valley Wines decked out a Mad Hattingley Tea Party, complete with go-fish flamingo and an adorable bridge taken straight out of a fairytale. Not one, not two but THREE craft beer and cider pop ups sprang up on our wanderings. Tunes blasted out of the Johnny Walker Discovery Bar (*frantically loads Shazam!).
And it wasn't just alcohol that took centre stage, soft drink start ups were also plentiful. Nix & Kix wowed us with interesting combinations like watermelon & hibiscus and blood orange & tumeric. Delicious. Captain Kombucha gave us a taster session in gut health. Seedlip taught us a very valuable lesson that not ALL cocktails have to be alcoholic (duly noted).
So what did we learn? The gin hype isn't calming any time soon. Chang Beer will always remind us of travelling escapades in Thailand. And the Taste of London isn't poached or fried, it's shaken and stirred.
SUBSCRIBE TO OUR NEWSLETTER:
Categories