A Heart for Mental Health
23/08/2022
We 'heart' (it will make sense soon) campaigns that have authentic purpose and are about causes we are passionate about. And when they are our own campaigns, done in partnership with our incredible clients, we love them even more.
To build awareness around this year's European Mental Health Week, we worked with our client Canon to develop a campaign called 'Heart on Your Sleeve'. Partnering with two incredible artists Ricardo Cavolo and Agathe Sorlet to design six printable hearts for people to wear and then share online, with the aim to open up conversations around mental health, using the Heart on your Sleeve metaphor as a positive, empowering message.
Tying in perfectly with the theme "Speak Up for Mental Health", we created a socially led campaign that encouraged people to download, print and then wear these beautiful heart designs, pinning them onto jumpers, ironing onto clothes or sticking them on a phone case. The designs then represented the wearer as someone open to conversation about mental health with friends, family or even colleagues, signifying a safe space and person to talk to.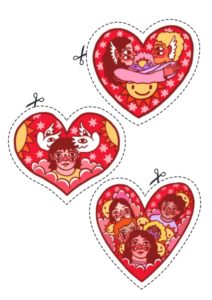 To create further awareness for this powerful campaign we partnered with fantastic influencers from across Europe including Germany, France, Austria, UK and Italy to share the message far and wide. Generating some great content and creating some great conversations around this very important subject.
The campaign also saw us work with our lovely Canon clients to create a workshop for Canon staff, here the hearts were printed using the Canon PIXMA Printer onto transferable papers before being ironed onto tote bags and tops all whilst encouraging staff to talk about how they are feeling.  The designs were also brought to life on pin badges which employees continue to wear around the office showing that they open to talk if ever their colleagues needed/wanted to.
Whilst Mental Health month may now have come to an end, our mission to get people talking has not. To continue this important conversation you can download the printable hearts here from the Canon website so you can wear your heart on your sleeve and help break the stigma.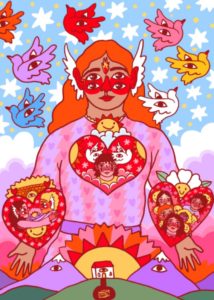 SUBSCRIBE TO OUR NEWSLETTER:
Categories