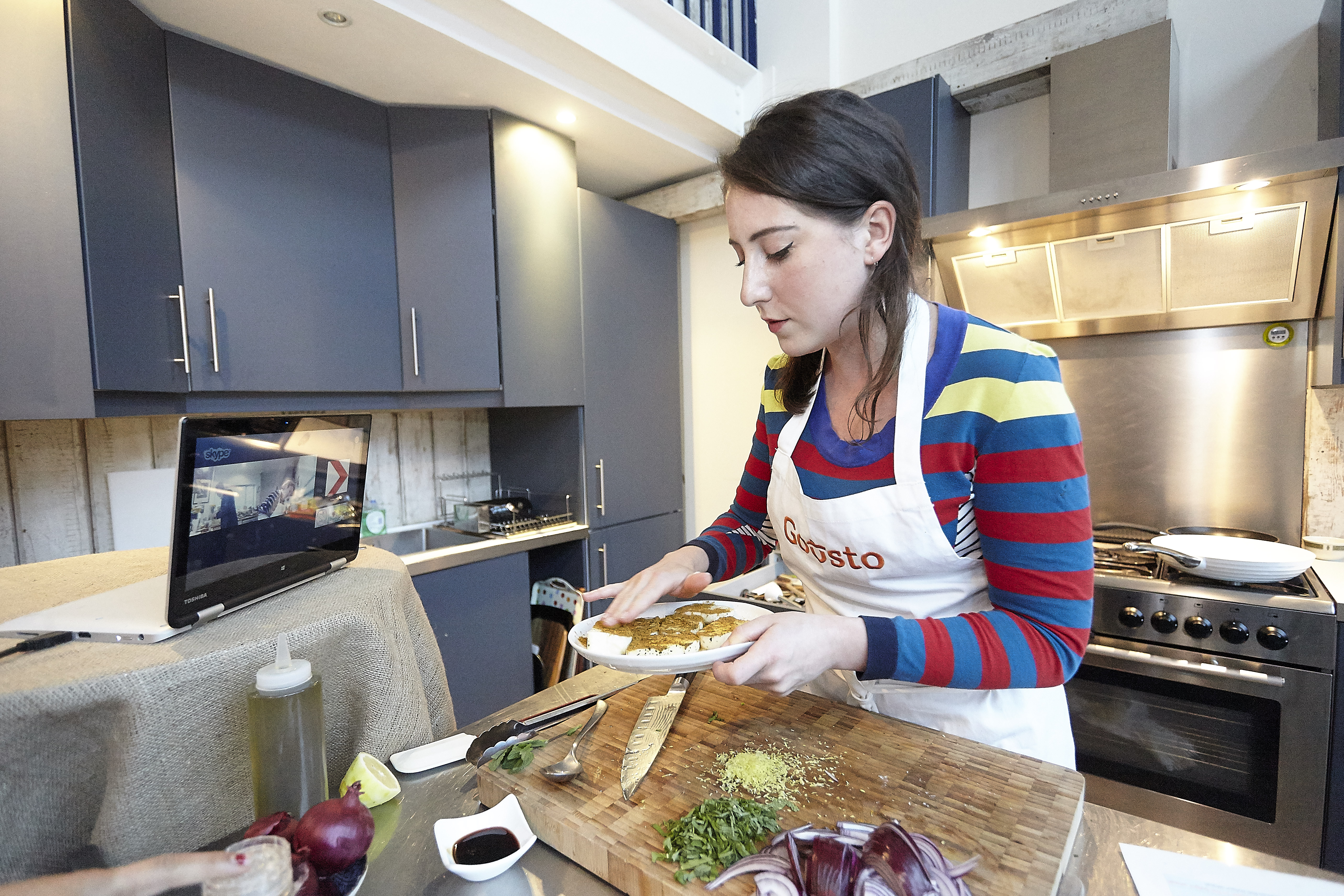 03/06/2015
With the annual list of the World's 50 Best Restaurants being revealed yesterday, we have a culinary treat of our own to share. With a squeeze of tech, the Toshiba team recently hosted a Skype cook-along for some foodie bloggers on Toshiba's new convertible laptop, the Satellite Radius 11.
The cook-along was inspired by the Satellite Radius 11's versatile display modes – there's five in total, thanks to its innovative dual hinge – which vary from traditional laptop, to presentation mode through to tablet, and everything in between. And once we saw it, we knew you'd never need a recipe book again!
To host our virtual cook-along, we partnered up with leading home delivery recipe service, Gousto, who sent all our bloggers a package full of fresh, seasonal ingredients they need to cook a lovely dish for the summer months – Persian Halloumi. With a brand new Satellite Radius 11 delivered to each blogger, we were ready to go on a cook-along experience!
Under the guidance of Gusto's Head Chef, Alice Feaver, who hosted the group via Skype and cooked along from the Gusto lead kitchen, our bloggers got to try their hand at cooking the recipe in the comfort of their own kitchen. Skype was perfect for the cook-along, as it meant they had the freedom to ask any questions of our expert chef along the way, while the Satellite Radius 11 proved itself as a worthy cookbook replacement, with bloggers using it not only to join the Skype call, but follow and swipe through the recipe on the touchscreen.
The bloggers impressed the Gusto Head Chef with their creations and there were some pretty happy stomachs all around! Check out what some of the bloggers, Fab Food 4 All, Farmers Girl Kitchen and Lover of Creating Flavours, had to say about the experience. And if you're up for creating your own Persian Halloumi, check out the recipe on the Toshiba website here!
SUBSCRIBE TO OUR NEWSLETTER:
Categories