Culture Club: Nicer Tuesdays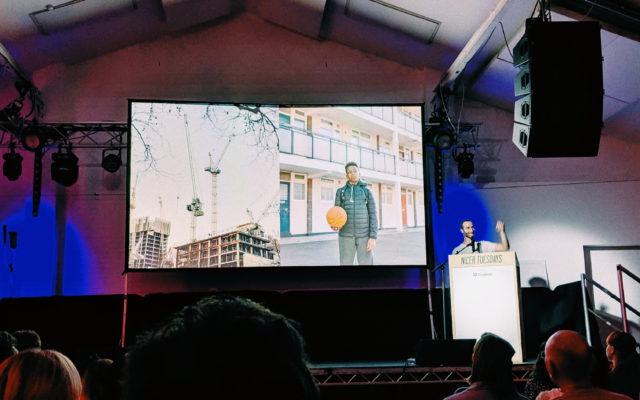 03/09/2019
Monday is over and Tuesday has come calling, it's just before hump day and we're still miles away from the weekend. Luckily we have It's Nice That's #NicerTuesdays to cheer us up and keep our brains fired up. The events consist of an eclectic mix of speakers across the creative industry, made even more enjoyable with free beer. 
Last Tuesday, as the sun set over East London, we headed to the event as part of our ongoing Culture Club initiative. Four speakers took it in turns to share their knowledge on stage and open up about their creative work – offering great insight into their processes, inspirations and creative outlook. 
Melissa Kitty Jarram was the first speaker – an artist working across both digital and print, whose latest project 'Ugly' was an accumulation of perseverance, multiple setbacks, early mornings and late nights. Melissa explained how each frame consisted of 12 paintings – resulting in roughly 12 hours worth of work for one second of video (side note: she did this whilst also being a full time engineer, no excuses!). The result, a truly mesmerising animation based on Warsan Shire's poem 'Ugly' with several screenings and even a Vimeo Staff Pick.
The second speakers were design duo 'Adapt', consisting of Josie Tucker and Richard Ashton.  Adapt is a 'climate club' which uses design and humour as a tool to communicate the current climate crisis. Their work lead to creating a pop-up exhibition which supposedly ended in people beating this s#!* out of a Shell piñata.
The photographer Max Miechowski was the third speaker – whose work focuses on local communities and local people. After moving from Leeds to London two years ago, his latest project 'Burgess Park' (which landed him a spot in the National Portrait Gallery) beautifully captures the faces and diverse communities that make up our neighbourhoods. Max states that a bag packed with peanut butter sandwiches, legs ready for walking and a camera in hand is enough to tell the fascinating stories happening right on our doorsteps. 
The fourth and final guests were design studio Kellenberger-White who shared insights of their project for the Middlesbrough Institute of Modern Art (MIMA). They spoke of the importance of having a process to keep the multiple activities and actions on track. In the MIMA project, this included research trips, exhibitions and workshops, all resulting in a bespoke identity for the museum with Middlesbrough's industrial heritage at the forefront of that identity.
So what did we take away? We really like the Camden Hells beer they served. The notion of having a process can feel at odds with free-flowing creativity but all of the speakers stressed the importance of having their own process in place to help their projects on track. Whether it's a five stage process (preparation, incubation, insight, evaluation and elaboration), six or even seven, finding a process that works for you is key to making great work happen.
SUBSCRIBE TO OUR NEWSLETTER:
Categories