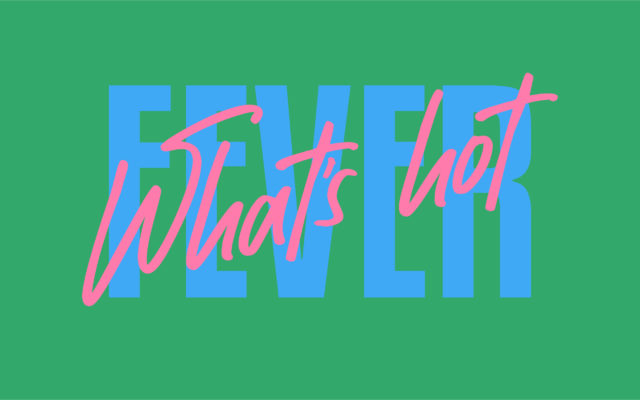 24/04/2020
This week, it feels like the concept of an 'underdog' is being re-written. Can Netflix ever truly be an underdog? Would you ever bet against Facebook? We're taking a look at how these online giants are attempting to ruffle some feathers by stepping into new territories. In addition, transparent fashion is back en vogue, the Independent Book Club handles our cultural fix, and Twitter helps us to be lazy.
The show you need to watch: Too Hot to Handle
If, one year ago, you had told us that we would be raving about a reality TV show that forced celibacy on attractive twenty-somethings, starred a sorority girl who doesn't know where Australia is, and was co-hosted by a gossip-spilling smart home device, we would have told you to FO. After all, Love Island doesn't have Alexa's, and it certainly doesn't air in April.
Last year there were whispers of something that threatened to shake up reality TV: The Love Island Winter edition. Well, it happened, and it kind of sucked. Its failure was blamed on the fact that it came out at the wrong time of year, as apparently in Winter we can't possibly imagine ourselves on holiday, so we enjoy watching young singles in the sun less.
Too Hot To Handle has taught us that this simply isn't true. In a world where we can't imagine ourselves in Victoria Park in two months' time, let alone Mexico, Too Hot To Handle has turned reality TV on its head. A crazy new concept, a new location, contestants with different motives – it has it all. Your move, ITV.
The party crasher to keep an eye on: Facebook Gaming
It's trying times for everyone right (you know why, we're not going to say it again) but spare a tear for the creatives who were ploughing through decks and plans for the launch of Facebook's Gaming app, only to have it brought forward a few months (due to said thing we're not mentioning) and reduced down to a single Facebook post.
Short as it is, that post tells us quite a lot. While Facebook isn't new to gaming (its long had a Gaming tab) this is a dedicated app for streaming games, and puts Facebook squarely in Twitch, YouTube and Mixer's spaces (yeah Mixer, you know Mixer – you get like embers and that. Ninja's on it). You get everything you'd expect from a rival streaming platform; you can follow gamers and watch their live streams, plus post reactions and comments. One key difference is how easy it makes livestreaming of mobile games, through a 'Go Live' button that lets you stream your mobile display on Facebook. This is already technically possible through other platforms, but Facebook makes it both easier and immediately available to anyone using their app. Get news for all those PUBG Mobile players looking to become hyper streamers (no? just us? Okay then). You can also play Facebook owned games with friends in the app, if that's your bag. The Android app is available now, with iOS "in the works".
The list you need to see before pay day: Transparent fashion
First of all, don't worry: Those weird, clear raincoats TopShop used to sell are NOT back in fashion. Nor are we asking you to don Kardashian-style Perspex clothing. This Wednesday was Earth Day, and campaign group Fashion Revolution released the 2020 fashion transparency index. The index ranks retailers by the amount of information they disclose about social and environmental policies, processes and effects within their ops and supply chains.
If you want to shop ethically and sustainably (and why wouldn't you!) check out the list before you're next online shopping session. It is nearly payday, after all.
The cultural injection you need: The Independent book club
Hoping to read more in quarantine? The Independent has set up a book club, with genres decided by the editors and the books decided by the public, through Twitter polls. Each week, the Independent writers ask for your thoughts on each book, pulling together an article that sums up exactly how we're all feeling.
If you found Grapes of Wrath "exhausting" and Flowers for Algernon "frustrating", this could be the outlet for you. At the same time, if you found them riveting and pleasing, go and fight your corner. The next book is Ocean Vuong's On Earth We're Briefly Gorgeous – that old classic.
The update we needed, that was long overdue: Quote tweets
Finally!! Twitter is testing an update that allows you to see where a post has been quote-tweeted. Yes, you could have searched for this pretty easily. But who can be bothered?
SUBSCRIBE TO OUR NEWSLETTER:
Categories