#StyleTrends2018 with The Flower Council of Holland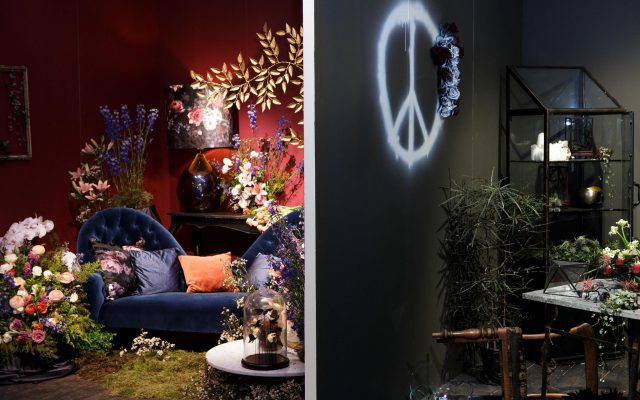 18/01/2018
When it comes to flowers and plants, nobody knows more than The Flower Council of Holland, and in our work with them to support their consumer brands – www.thejoyofplants.co.uk and www.funnyhowflowersdothat.co.uk – we're getting to know a lot more ourselves. Each year the FCH create style trends in partnership with a top cultural trend watcher, and we were charged with bringing them to life for UK media, influencers, designers, stylists and industry types.
To do that we needed a partner, and the brilliant team at The Flower Laboratory took that brief and then some, creating three distinct sets to match each trend – Romance 3.0,  Punk Rebooted and Re-assemble. To show them off we hosted an event in Shoreditch.
Our concept was blank canvas, a fresh start, so in an all-white room with all white furniture, our guests waited for the unknown. We then surrounded them with a powerful video that projected all the events of 2017 that brought the world to where it is right now. Next up was the trend presentation, and as each trend was discussed the sets were unveiled, showing people how great they can look in the home. Having served food created by Bubble that was themed around each trend, we concluded with a floristry workshop to give our 40+ guests a piece of 2018 to take home.
Check out pictures from the event below.
Re-assemble
The trend: we have a more diverse society than ever, and reality is sometimes confusingly complex. In order to be able to exploit all the new possibilities, we try and combine old and new elements together. It's necessary to create a new entity, and it gives a sense of flexibility to see something  made up of existing, sometimes contradictory elements. This also means that a living space starts to look like a three-dimensional collage, with  products, shapes, colours and materials combined with high contrast to form a cheerful new whole.
Romance 3.0
The trend: the economy is on the up, living standards are improving. At the same time we find ourselves in a digital bubble. We surround ourselves with people and opinions that are the same as ours. Everything is extra-powerful, and this certainly applies to design. Materials are superluxurious, shapes are full and sumptuous, colours are intense and rich. This results in decadent interior and exterior spaces.
Punk Rebooted
The trend: the shift in power is oppressing our sense of freedom. We feel that we have to live by a lot of rules, and are unsure about who will be making those rules tomorrow. That makes us rebellious – we want to work it out for ourselves. This combined with the hardening of society means that our living space is given a rugged and raw appearance. The colour black plays a dominant role, the materials are hard and sometimes have an almost aggressive appearance, like one big protest.
Starting with a video, ending with a workshop
SUBSCRIBE TO OUR NEWSLETTER:
Categories