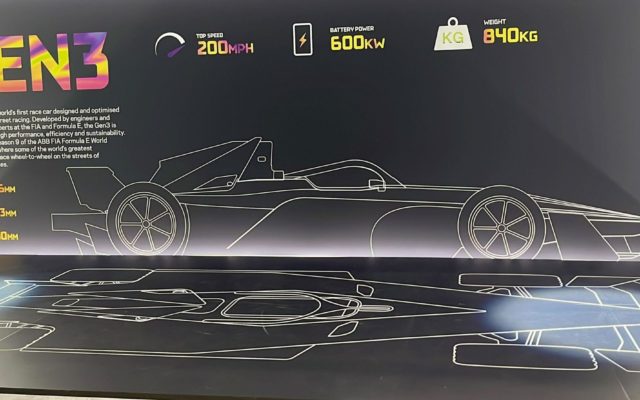 05/08/2022
Last weekend, as part of our agency Culture Club, we headed to the Excel Centre to experience one of the most interesting sporting events around at the moment. The Formula E World Championship is now in its 8th season and will take another giant leap next year with its 3rd generation cars set to hit speeds of 200mph and run longer than ever thanks to improved batteries.
In a sport that defines itself by progress and sustainability, it was really interesting to see everything geared towards milestone messaging, "8th season", "3rd generation", "hosted at the UK's first carbon neutral event space". Formula E wasn't perfect when it launched as drivers had to switch cars mid-race so batteries would last the race distance, and the cars themselves were slow comparative to other motorsports. Instead of fighting this truth, the brand has embraced it as a part of the message of progress – saying "this is how far we have come" with every milestone message.
It's an incredible case study on building fandom and has managed to bring in a brand-new audience to motorsport rather than relying on stealing some attention from F1 fans. Its focus on social media has had a huge impact – ideas such as Fan Boost and a focus on broadcasting via social media primarily have brought a level of youth engagement that brands can only dream of. The crowd at the Excel at the weekend was testament to that as families with young children attended the event in their droves and were encouraged to share their snaps on social throughout the day.
Coverage of the event around the arena with live commentary that slapped thick layers of exposition over every storyline, kept the crowd involved and gave them the all important context needed to fully appreciate the fact that Antonio Giovanzzi had just qualified third – in a really novel and exciting qualifying format that F1 could learn a lot from – having not scored a point all season! It was like sitting down to watch a soap with your parents, easy to pick up, impossible to ignore the sub-plots and drama quickly ensued!
Most interestingly about all this success both in engineering, sustainability and fandom is that it is arguably feeding into its own demise. While that may sound dramatic – and it is a little – the better and closer Formula E gets in terms of performance compared to Formula 1, the quicker F1 will simply take all the technology and become all-electric itself. The question is, will the fandom and brand mean young fans stick with their Formula E heroes and quirky race antics like Attack Mode or will it be a case of Formula 1 taking it all for itself? Time will tell, but what cannot be denied is that the progress made, and the new fans brought into the fold are the future of motorsport, including your blogger here today. A converted fan and I can't wait to see what's next.
SUBSCRIBE TO OUR NEWSLETTER:
Categories