Giant Rubber Duck Swims Down River Thames To Celebrate Jackpotjoy.com's New 'FUNdation'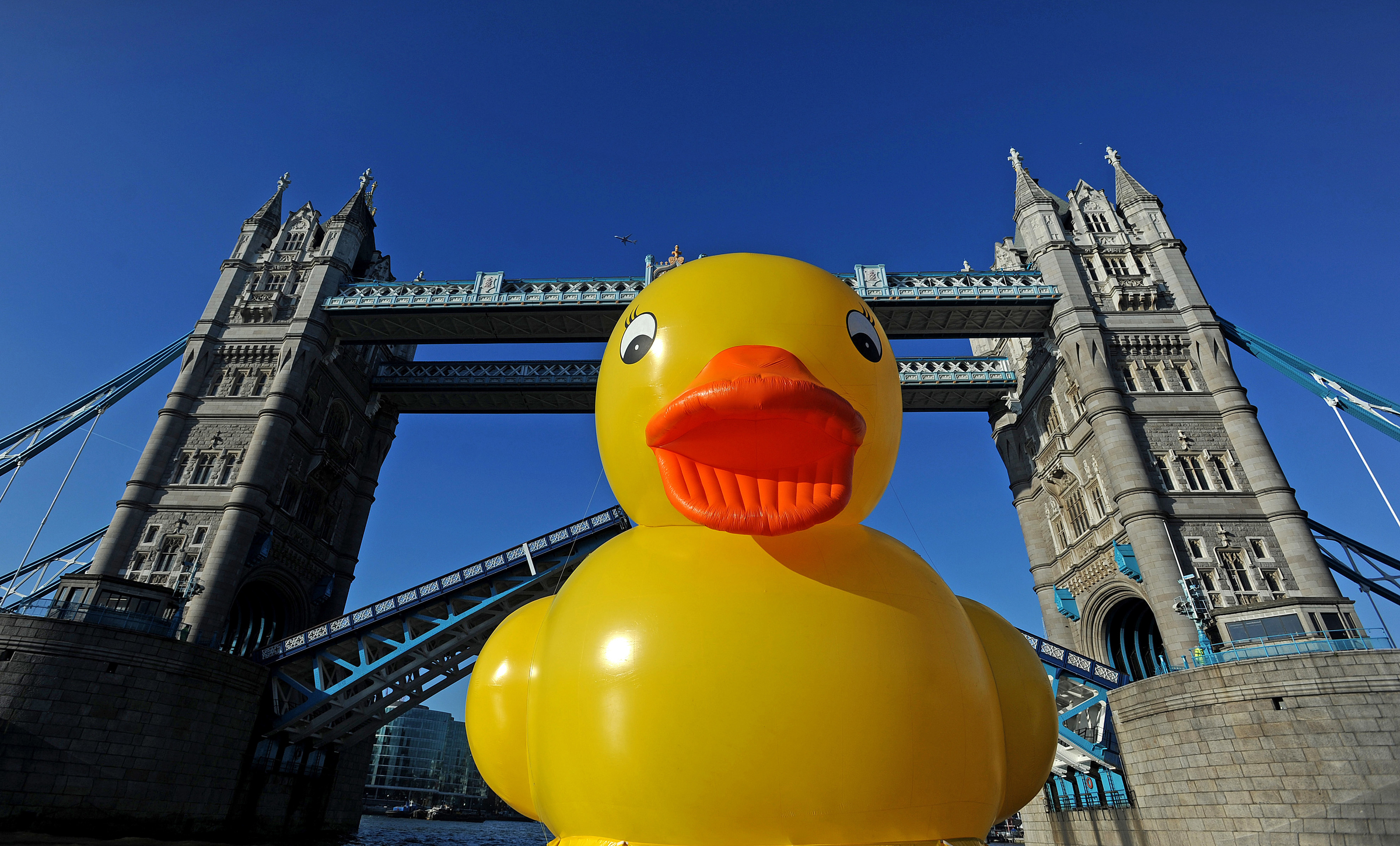 11/12/2012
Today the River Thames was the centre of a daft spectacle  as a giant 50 foot rubber duck swam down it to celebrate the launch of Jackpotjoy.com's new Facebook FUNdation –   a bursary granting funds and rewards for daft ideas to encourage Brits to have more fun.  And the Fever team were super proud to be part of it!
After months of hard work and planning, the 50 foot high, 60 foot wide giant duck finally set sail from London's West India Dock, reaching London's iconic Tower Bridge at 10.00am where the balustrades were lifted to allow the huge bird to pass through.  Created by an eight  person team with over 800 man hours  spent  creating patterns, cutting and welding the sections together to produce the amazing air tight finished structure – the duck also weighs a staggering half ton, is 50 foot high and 60 foot wide.
Patron of the Jackpotjoy FUNdation, Barbara Windsor, was on hand to christen the duck's maiden voyage in a traditional marine fashion with a bottle of champagne. After taking to the water, the giant  duck travelled upstream from West India Dock to London Bridge passing some of the capitals most famous skyline landmarks on route including Canary Wharf, the O2 Dome, the Tower of London, the Gherkin and the Shard.
The Jackpotjoy FUNdation has been created following independent research  that revealed the UK to be suffering from a 'happiness recession'. According to the findings, the amount Brits laugh on an average day is 7.2 times which is less than half the amount psychologists have benchmarked we should at 15 times a day.
Barbara Windsor comments: "We have created the Jackpotjoy FUNdation to get everyone having more daft fun in their lives and we thought a giant rubber duck floating down the River Thames was a great way to kick it all off and was certain to bring a smile and a chuckle to everyone who saw it! 2012 really has been the year of the River Thames with the Jubilee Pageant, the floating Olympic rings and David Beckham jetting into the ceremony via speedboat! We decided to round off the year with the giant duck and it certainly cheered everyone up….no one could suppress a smile as they saw it sailing past!
"We now want people to send us their own entries of what daft and wacky things they'd like to do and we'll provide funding for the best ones to become a reality. We all know how good it feels to have a proper belly laugh and it's our mission to get the nation laughing more and embracing their silly sides!
If you want to enter the  Jackpotjoy FUNdation  enter by visiting www.facebook.com/jackpotjoy , winners can apply for FUNding to make their daft ideas a reality or receive cash prizes for something daft they have already done.  So whether you want to jump into a massive pool of jelly or organise the biggest ever street conga log onto facebook and submit what you'd do 'just for the Jackpotjoy of it'….
And in the meantime, the coverage is starting to roll in Evening Standard, Daily Mail, Huffington Post, Metro and LBC... fingers crossed for tomorrow's papers! Watch this space!
Oh and if you have seen the duck and have a pic don't forget to tweet it to @jackpotjoy and use #jackpotjoyduck
SUBSCRIBE TO OUR NEWSLETTER:
Categories