Got Ink? NOW TV Opens Ultimate Game of Thrones Tattoo Studio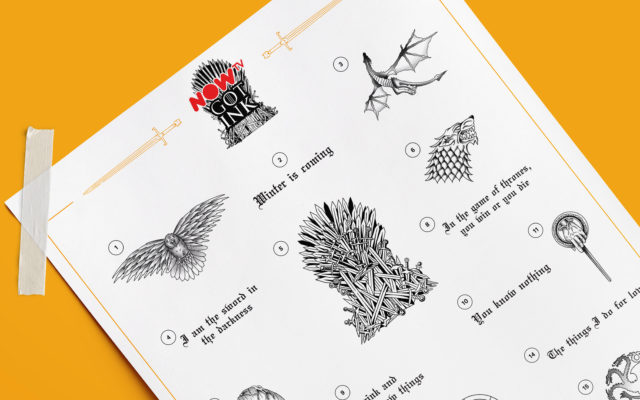 28/03/2019
Last week we announced our latest NOW TV campaign – to give Game of Thrones superfans the chance to get inked at a one-of-a-kind tattoo studio by guest tattooist, Lauren Winzer, the genius behind Sophie Turner's iconic 'The Pack Survives' tattoo (and Miley Cyrus too, no biggie).
There's 16 different Game of Thrones inspired designs available, and our host studio, The Circle, has been given a Seven Kingdoms inspired makeover too. Plus, you'll be able to watch the episode one of the new and final season on NOW TV.
There's 100, completely FREE, tattoos up for grabs! A ballot of 50 advanced appointments will be available via Eventbrite, so we suggest you move faster than a raven from the citadel for your chance to grab one! If you don't manage to nab a slot, walk-ins will be available, first-come, first-served, of course.
So far, the GoT media fans are loving it – check out The Daily Star, Independent, Mail Online and Metro, as well as the 60 pieces of regional coverage… and that's even before the studio has even opened!
Fans can sign up here nowtv.com/gotink
WHERE: The Circle, 21 Noel Street, Soho, London, W1F 8GP
WHEN: Various slots 11:00 – 20:00 – Tuesday 16th and Wednesday 17th April 2019
AGES: 18+
COST: FREE
SUBSCRIBE TO OUR NEWSLETTER:
Categories