Ho! Ho! Ho! The Christmas Party and Happy Anniversary!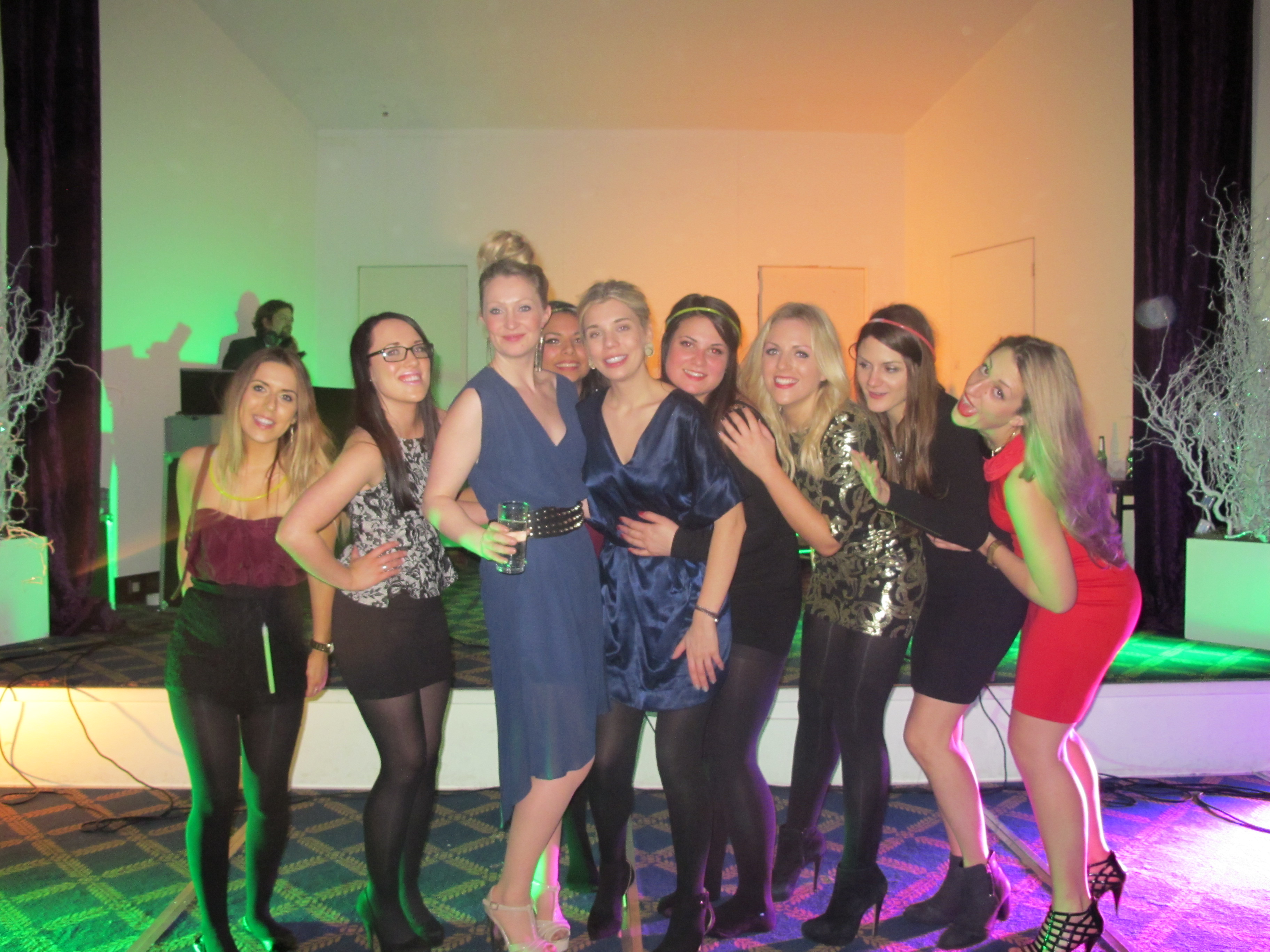 21/12/2012
With the retired Mr Roger Nelson of Nelson Bostock flying all the way over from New York it was only right that Nelson Bostock Group put on one hell of Christmas Party come 25th anniversary soiree, and we can confirm the night did not disappoint.  We started off early with computers off and champers at the desk, before clambering aboard a stunning silver London bus!
On arrival at the secret party venue the champagne started flowing once more. With the very attentive waiters on hand topping up our bubbles with every sip the evening steadily headed into a night of debauchery and some serious FUN.
The usual sit down dinner ensued in a beautifully decked out winter wonderland, 1980s style natch. It wasn't long before our Secret Santa, Mr Lee Nugent and his Christmas elves, were on stage and rattling though a hilarious presentation mocking every member of staff with an embarrassing  story to match an equally embarrassing picture, some more embarrassing than others…
Once Lee had unloaded his Santa sack and as  an extra special 25th Anniversary celebration it was video time. Last month each of the agencies in the Nelson Bostock Group were tasked to create a video of past, present and future PR and last night was the showcase. As the deserts rolled in the credits started playing and we were entertained with Nelson Bostock Group presenting 80s PR to the tune of Calvin Harris' Born in the 80s, Fever tackling the present day in the style of 12 Days of Christmas and a very surreal nod to the future from the Things With Wingers. You'll have to take our word for them being utterly amazing as sadly they're not to be shared beyond Compass House!
The highlight of the night however was by far and away our utterly brilliant Chairman and one half of the Nelson Bostock empire, Mr Martin Bostock. He stepped up with his impressive ten piece live band in tow, The Basement Band (look them up), and blew us away with an incredible playlist spanning at least six decades of music. The dance floor was jam packed from start to finish, with the only let-up when we took turns to fill up on booze at the bar. Once the band wrapped a DJ took over and it wasn't long before Gangnam Style was well and truly massacred on the dance floor. After belting out Fairytale of New York, arm in arm, the curtain closed and the night was officially finished.
However, for quite a few, it didn't stop there, with the Nelson Bostock official after party being hosted at The Roxy. A couple of hours later it felt a bit like Ground Hog Day with the night finishing again… with Fairytale of New York… more arm in arm singing…and fuelled with even more booze.
Congratulations and Happy Anniversary Nelson Bostock Group. It was an incredible end to another incredible year and here's to another 25 years and another 25 Christmas parties as good as this one.
Merry Christmas one and all !
SUBSCRIBE TO OUR NEWSLETTER:
Categories