If I Could Rearrange The Alphabet, I'd Put P and R Together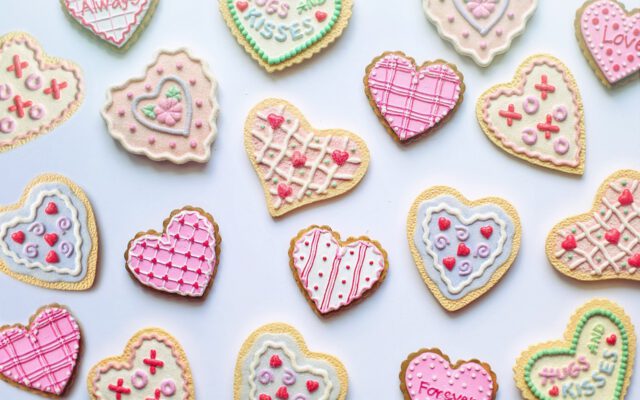 11/02/2021
Every year, whether you're celebrating or not, it can be hard to avoid the clutches of one St Valentine. Supermarkets are lined with red and pink and everything becomes heart shaped, but whilst the world has evolved, Valentine's Day can still seem steeped in cliches.
So this year, our team has compiled a round-up of our favourite campaigns which promote all types of love this Valentine's Day – whether that's friendship, same-sex relationships or even learning to love yourself.
Created by artist Amy Broch, Joy Bomb London aims to do exactly as the name suggests – spread a little joy around the capital. This Valentine's Day, they are travelling around the city in a digital van, displaying letters of gratitude and self-affirmations around iconic landmarks, hospitals, and housing estates.
Ahead of the Valentine's weekend, their followers and readers are encouraged to share messages of encouragement to their future selves, and celebrate all of the things that have made them great this year.
Why we love it: Amongst the pressure to spread joy and positivity to others, it is so easy to forget about your own happiness. Joy Bomb London are doing exactly that with a big smile on their face, and visiting those who may be forgotten about or marginalised this Valentine's Day.
Bloom & Wild has gone bold this year and ditched one of the most iconic symbols of Valentine's Day – red roses. Following lengthy research, they found that 58% of recipients think the flower is cliché, and 78% hope to receive something more thoughtful for the occasion.
With that in mind, they have scrapped the rose in favour of bouquets more reflective of real relationships, opting for "messy and complex" arrangements to promote the season of love.
Why we love it: Not only is the idea rooted in insight, Bloom & Wild has also given a wonderful alternative option, reflecting the reality of relationships in their more personal bouquets. We think it's a great way to engage those looking to celebrate without the usual cliches.
Full disclosure – we were lucky enough to be involved in the creation of this idea and we LOVED working on this with our pals and partner agency Nelson Bostock. Partnering with illustrator Wednesday Holmes, Canon has launched a range of diverse and inclusive Valentine's Day cards, all available to download and print at the click of a button – and they're completely free!
Including a selection of LGBTQ+ figures, the illustrations depict the true notion that 'love is love' and offer more inclusive and dynamic artwork to share with your loved ones this Valentine's Day.
Why we love it: Not every couple can find cards which reflect their own relationships on Valentine's Day, making it more important than ever for brands to acknowledge and embrace all forms of love. This campaign does exactly that, coupled with Wednesday's beautiful illustration style to spread a little more joy this season!
A classic twist on the dating profile, Doughnut Time has created four punny Hinge accounts, reflecting some of their most popular doughnuts named after the likes of David Hasselhoff and Bruno Mars.
For those that are lucky enough to couple up with the 'Doughy Dudes,' Doughnut Time will be offering a selection of undisclosed prizes for the girls and guys who successfully slide into their DMs.
Why we love it: It's Valentine's Day, so who doesn't love a cheesy pun and a cringe dating profile to match? This works perfectly with their pre-existing recipe names, and coupled with free prizes and eye-catching social posts, what isn't there to love?
SUBSCRIBE TO OUR NEWSLETTER:
Categories