Introducing the Artist Formerly Known as NOW TV
01/04/2021
Last week, our client NOW TV (as was) unveiled a new identity, look and name – NOW. 
A streamlined identity and new logo, with a new green colour palette, and the former Passes renamed to Memberships, showcase NOW's simply brilliant entertainment at the heart of the brand. Under the new tagline "brilliant simplicity meets brilliant entertainment", we love the new look and feel.
To launch the rebrand to the general public and to ensure media were well-versed in the new look and feel, the newly-renamed NOW Press Office team have been hard at work organising one of the biggest biscuit send-outs in agency history. 
Working with a bespoke biscuiteer to create NOW's new logo and Memberships in biscuit form, the team shipped out over 200 to the media, securing a social reach of over 300 million, with editors from the Express, Mirror, Star, Total Film and Hello all posting about their treats. 
To announce the news far and wide, the team carried out a full announcement sell-in, which saw 35 pieces of coverage go live letting the world know about NOW's name change, including Shortlist, Express and The Drum.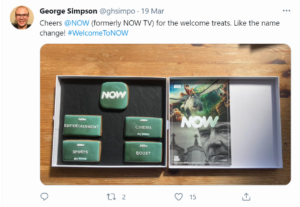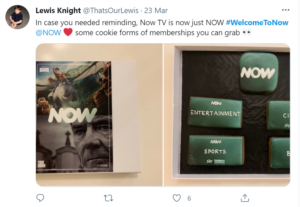 SUBSCRIBE TO OUR NEWSLETTER:
Categories