Kicking off spring by hitting every sense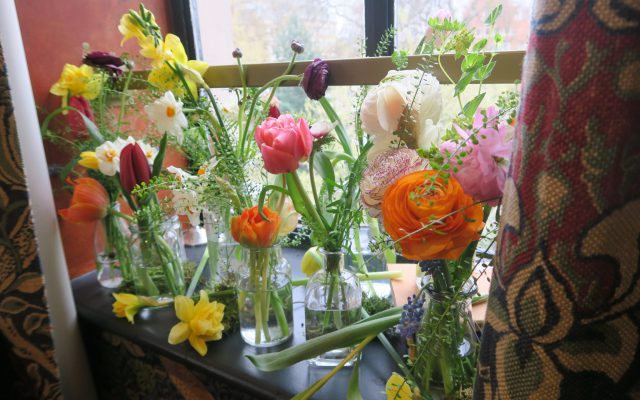 26/04/2017
News just in, we're now all about flower power. We are so excited to have been chosen as the Flower Council of Holland's UK agency across all PR, social and content, so expect a lot of foliage and floral scenes to be flooding our Instagram page.
To kick off in style, for our first project we hosted a media and consumer event for Funnyhowflowersdothat.co.uk, and we're pleased to share it was a blooming success (expect a lot of those puns, we're unapologetic).
Funnyhowflowersdothat.co.uk is all about showcasing the happiness that flowers can bring, so we wanted our event to mirror that ethos. Aptly called Spring Senses, the event offered attendees a multi-sensory experience, kicking off spring by hitting every sense. Held at Six Storeys in Soho, guests were treated to a series of hands-on workshops which brought the season to life via taste, touch, sight, smell and sound.
Chelsea Gold Medallist Winner, Ian Drummond, transformed the venue into a stunning flower-filled oasis that showed off everything Spring has to offer, from intricate hanging installations to floral spray artwork, jars and bottles of flowers decking all surfaces to moss and floral spreads. Everywhere you turned, it was a feast for the eyes! Relaxing sounds of Spring and tweeting birds also filled the venue to bring the sounds of spring to Soho.
To bring spring Taste to life, we served floral inspired canapés, while a mixologist was on hand to create a floral-inspired cocktail called Hanami (the Japanese tradition of enjoying the transient beauty of flowers) inspired by the recent Funnyhowflowersdothat.co.uk article on how-to create your own Hanami brunch at home. The themed concoction used gin which had been infused with plums, cherries and rhubarb.
As part of the Sight station, guests were taught how to create a beautiful handtied bouquet with expert London florist, Wild Things, for them to take home.
A scent discovery workshop by Experimental Perfume Club for the Scent zone helped guests identify their floral profile and taught them how flowers are used in perfumery.
For Touch, JamJar Flowers hosted a flower pressing workshop where guests created their own flower artwork framed in metal hanging frames or within phone cases.
A whole host of media and bloggers attended; from Liberty London Girl to Evening Standard, Woman & Home to House Beautiful, and our attendees went Instagram crazy capturing all the beautiful floral displays and masterclasses in action.
We also captured our own 'how-to' video content throughout the day, which we seeded on media social channels and used on our the Funnyhowflowersdothat.co.uk channels as well. Check out one of them below.
SUBSCRIBE TO OUR NEWSLETTER:
Categories