LGBTQ+ History Month: Our Icons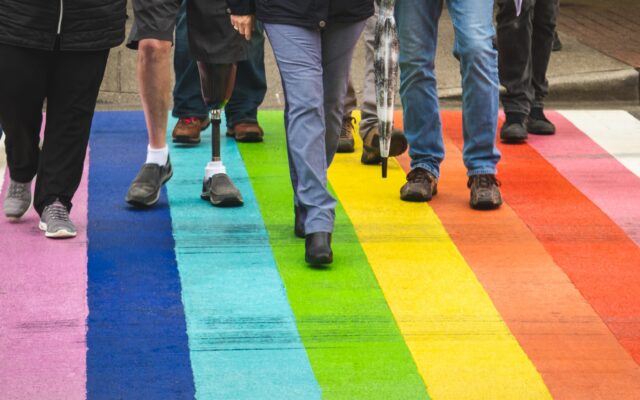 28/02/2023
This month we've been celebrating LGBTQ+ History Month, through a series of events, workshops, movie nights and book clubs. To end the month, we wanted to shine the spotlight on some of the leading people that inspire us at Fever, and recognise the amazing roles they have played in the community, and how they have paved the way for change.
Marsha P Johnson 
Marsha P Johnson was an activist for trans and gay rights during the 60s/70s and significantly impacted the LGBTQ+ community. At the time of Marsha's activism, being gay was seen as a mental illness and gay people were regularly beaten and arrested by the police and shunned by society.
At the age of 23, Marsha was involved in the Stonewall Riots, where the police forced over 200 people out of a bar and onto the streets and then used excessive violence against them. Marsha founded STAR – Street Transvestite Action Revolutionaries – an organisation to support gay and trans individuals who had been left homeless. Despite suffering from several mental health issues, much of Marsha's life was dedicated to helping others.
Unfortunately, Marsha was reported missing in 1992 and was later found dead six days later. Despite Police claiming it was suicide, those close to Marsha argued it was most likely a hate crime. A petition saw the case reopen in 2012, to find out more answers about her death, which has now been reclassified as 'undetermined'.
Marsha's legacy lives on today in organisations such as the Marsha P. Johnson Institute, which says it "protects and defends the human rights of Black transgender people".
Olly Alexander 
Best known as the lead singer of Years & Years and his performance as Ritchie Tozie in Channel 4 drama, It's a Sin, Olly campaigns for safer sex and HIV screening, as well as anti-LBGT bullying initiatives.  He has also opened up about his self harm and depression from an early age. In 2017, he presented a BBC Three documentary investigating the link between being gay and the development of mental health disorders where he opened up about his bulimia.
During Years & Years' performance on the Pyramid Stage at the 2019 Glastonbury Festival, Alexander gave a speech promoting LGBTQ+ rights and calling for eliminating racism, ableism and sexism.
Dear Olly, thank you for inspiring us daily. Thank you for your activism and showing us that we can be the best version of ourselves without compromising. And thank you for making it fun! 
James Baldwin
James is an American novelist who explored the intricacies of racial, sexual, and class distinctions within America, and whose works helped to raise public awareness of racial and sexual oppression. He believed that sexuality was fluid, something that is challenged even today.
Billie Jean King
Billie is an icon is the tennis world, for winning 39 Grand Slams and has inspired a future generation – but importantly, she was outed as a lesbian during her career. Her publicist at the time told her to deny it – she didn't and became the first openly gay athlete.
RuPaul
RuPaul has made drag mainstream and captured a whole new audience, that now embraces the LGBTQ+ community!
Billy Porter
Billy is an Emmy, Grammy and Tony Award-winning actor and singer with frequently LGBT-themed roles. He was the first openly gay black man to win a Primetime Emmy Award in a lead acting category. I think he's great because he shows honesty in his work, works hard, stands up for people's right, and helps break down stereotypes and humanise queer, gay and transgender people. He also has impecicale dress sense!
I LOVE Billy Porter.
Hunter Schafer
Not only is she an incredible actress, but she has helped and inspired so many people in the LGBTQ+ community. She is a trans woman and has represented herself, and the struggles many go through in her work, especially in her role as Jules in Euphoria. I think its amazing for future generations to see a beautiful trans woman live her truth and be seen in award winning television covers, catwalks.
Munroe Bergdorf
Munroe Bergdorf is an incredible representation of the LGBTQ+ community. She is a trans woman who is a strong activist in ensuring that people are being educated and uses her platform to allow others to have their voices heard and share stories. She has a fantastic way of speaking with her audience, is constantly giving her time to others and helps lots of LGBTQ+ charities around the UK. I really love everything she stands for and it's amazing to see the work she is doing and will continue to do.
View this post on Instagram
SUBSCRIBE TO OUR NEWSLETTER:
Categories