Mabel rises in Piccadilly Circus with YouTube Music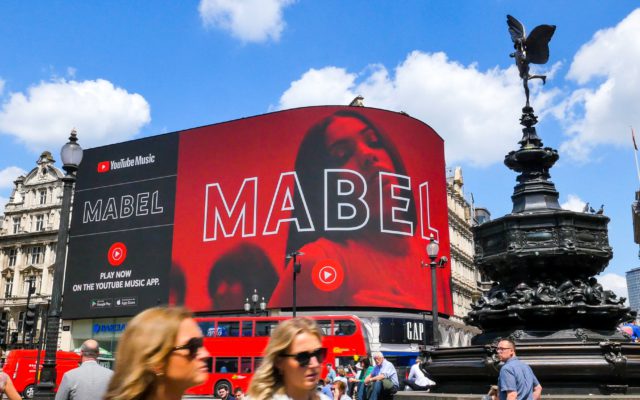 30/05/2019
Okay we confess. The Fever team has been playing Mabel's 'Don't Call Me Up' so much over the past few weeks that our phones may have stopped ringing (please do call us up).
So imagine our excitement when we got to announce the London singer as YouTube Music's first UK Artist on the Rise (a pretty cool programme which sees YouTube Music support emerging artists). Where is she rising to you ask? Well, the Piccadilly screens in London.
Last weekend we calmed down our inner fangirl and headed to the UK's most famous billboard to see superstar Mabel's bespoke content emblazoned across the 4K screens.
It wasn't just about our excitement, we wanted to share the Mabel love with the rest of the UK. So we secured a broadcast exclusive with ITV News London who captured the moment as Mabel watched her face light up the screens:
"It's so exciting. It's definitely a dream come true. It just feels overwhelming. Seeing my face in Piccadilly Circus is so amazing. It's like I have butterflies, I never know what's gonna happen next. It's kind of the best feeling where I just get surprised by all these amazing things happening." – Mabel
With a daily audience of 8 million, placing Mabel on ITV News London was an important avenue to spread the word of YouTube Music's support of emerging artists and granting talented young musicians like Mabel the recognition they deserve.
Whilst you wait for her next hit, watch the ITV clip here.
SUBSCRIBE TO OUR NEWSLETTER:
Categories