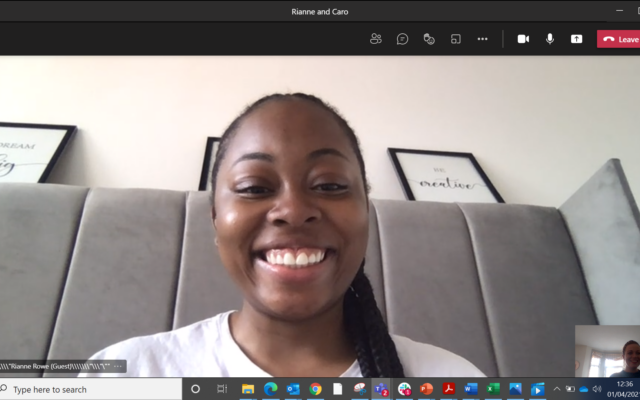 10/05/2021
In celebration of International Women's Day this year, our MD Caroline Farley took part in The Elephant Room's One Month Mentors programme – a brilliant initiative matching 15 women and non-binary individuals with 15 senior industry leaders.
Headed up by the incredible Shanice Mears and Ore Olukoga from The Elephant Room, the programme aims to help emerging talent build sustainable relationships with the creative industry. In addition to four weekly mentoring sessions, mentors and mentees were invited to attend talks from Davina Rajoopillai, Rani Patel and Priya Mattadeen covering subject matters including how to achieve better diversity, equality and inclusion in the workplace, creating a successful side hustle, and personal accounts of what it means to be a leader.
Here, Caroline and her mentee Rianne share their feelings on the experience, detailing what it meant to them and how they built a strong bond in just a matter of weeks.
What did you find most surprising about the experience?
Rianne: At first, I was a little apprehensive about meeting Caroline because of two reasons. The first reason being that we were communicating over Teams and I think it's harder to make a good impression over online software! My second reason was that as Caroline is in the PR field, I wasn't sure whether her experiences with PR could relate to my knowledge within Advertising. However, I was extremely surprised by how much me and Caroline had in common, not just from a career perspective but from a personal perspective too! Caroline reminds me of someone I would love to be once I hit 40! (ahaa).
Caroline: Hahaha, thanks for the reminder there Rianne! I turned 40 during our one month mentoring scheme and she's not letting me forget it! I would agree that the biggest surprise for me was just how much we had in common. I was really thinking I'd be coming at it as the old fogey but we actually bonded really quickly over a shared love of food, reading (I have just downloaded Rianne's favourite book of all time – The House Across the Street by Lesley Pearse – onto my kindle and can't wait to get stuck into it) and an interest in French language and culture. The other thing that surprised me massively was when Rianne said to me at the end of our first session that it was probably obvious to me that she was a shy person. It wasn't obvious at all! She came across so confident and sparky and I was really shocked when she said that. I guess an important reminder that you never know exactly how someone feels on the inside when you meet them…only exacerbated by COVID times and so many virtual meets.
What did you enjoy most about the experience?
Rianne: I really enjoyed how Caroline had a different viewpoint on a lot of the topics we would talk about. Also, within a four-week period, Caroline gave me more advice that I could have ever asked for. We spoke about confidence and well-being, how to thrive in the advertising industry, interview tips and tricks and advice on my next steps once the mentorship is completed.
When we were on a call for our last session, my sister was sitting right next to me the whole time and as soon as we got off the call, she literally said "That woman is amazing Rianne, how did you meet her?" because you gave me so many ideas!
Caroline: That's so lovely to hear! It's funny because that feeling of respect and admiration is 100% mutual and that is what I enjoyed the most about the experience: How much I also learned from Rianne. She blew me away with her drive and vision – I didn't have anywhere near as much at her age! It made me very nostalgic thinking back to when I was graduating and entering the job market and I really had no idea what I wanted to do and hadn't really applied myself when it came to things like internships and networking. Rianne has completed INCREDIBLE internships with some of the most respected Ad agencies in the industry, she's been recognised by the Young Creative Council and has involved herself in judging panels for young creatives in the industry – for someone who hasn't even entered the job market yet, her CV is so impressive and I loved seeing how assured she was in her career ambitions.
What one thing will you take away with you from the experience? 
Rianne: Other than having a mentor and a close friendship for life (!), Caroline really taught me that it's okay to make mistakes and it's more than okay to have a SH*T day. I think one of the days Caroline wasn't feeling her best and like me on the first day when we met (because of a personal problem) and we talked through it and she genuinely made me feel so much better and ready to conquer the world.
Caroline: I agree we will take away a long friendship and I can't ever imagine our relationship being confined to just the one month of mentoring we completed together. I also feel so happy that Rianne felt she benefitted from the experience and my advice. I remember how daunting it was being thrust into the working world after graduation and if I've helped build her confidence or make her feel more prepared, that is meaningful to me.
I will also take away remembering how important and crucial it is in life (and particularly in the creative world) to always hear and seek out different viewpoints and thinking. I loved seeing Rianne's thought process in action – she was working on a specific creative task during our sessions – and I found it fascinating seeing how her (nearly 20 year younger!) brain approached things. It reiterated the importance of diverse thinking from a diverse set of individuals if you want to do inspiring and meaningful creative work.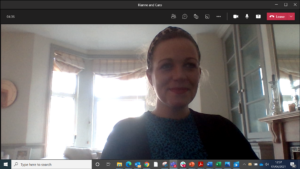 SUBSCRIBE TO OUR NEWSLETTER:
Categories