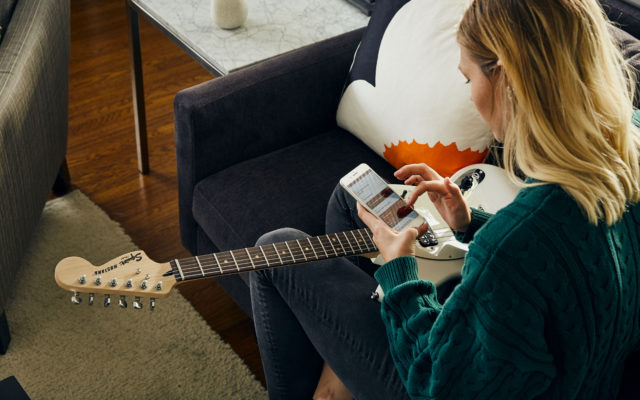 14/04/2020
Times are testing right now on so many different levels, with the c-word taking on a whole new meaning, and the way we all live having changed beyond all recognition for now at least.
Whilst we all enjoy a good boxset binge, with everyone spending more time at home, people are looking at what else they can do with the extra time they would've spent commuting or socialising, with many using the time to try a skill they have wanted to master. And with playing an instrument offering a whole host of benefits, including helping to de-stress individuals and even increasing creativity, it's a hobby that is right for the times we are living through now.
To help people out during this time, we have worked with our lovely client Fender to announce the launch of a 3 month free offer of their subscription app, Fender Play, which gives step-by-step videos to teach people how to play guitar, bass or ukulele. For absolute beginners, Fender Play breaks down the process into bite-sized chunks, taking away the fear of asking simple questions – "erm how do we actually hold a guitar?". And for those who have the basics covered, the endless variety of songs and genres available to choose from allows players to expand their skills and finesse their talent.
The team have worked their contacts hard across all different types of press to deliver amazing results for this story, positioning the free 3 month trial as a perfect tool to keep budding musicians occupied and the app as a key player in lockdown culture. Through their hard work they made sure Fender Play was part of as many round-up features on 'things to do indoors' as possible whilst also generating some pretty stunning stand-alone pieces on the initiative.
To date, the Fender team, PR rockstars that they are, have delivered x81 pieces of coverage including Vogue, Evening Standard print and online, Daily Star print, Mail Online, Dazed, Wired, NME and Shortlist to name a few (phew). And there is plenty more still to come…
SUBSCRIBE TO OUR NEWSLETTER:
Categories