Popcorn Day film recommendations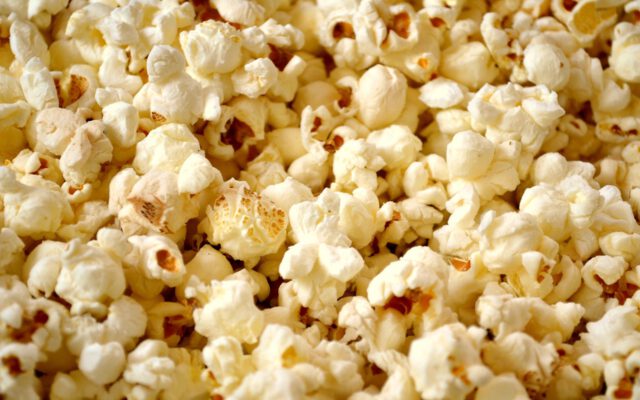 19/01/2021
19th January is a very special day. First of all, it's our lord and saviour Dolly Parton's birthday. Secondly, it's popcorn day, an annual celebration of the crunchy cinema snack. Yes, yes there's a day for everything but HELLO it's popcorn which we love so we are going to celebrate it and any naysayers can go and be miserable somewhere else.
Alas, this year we won't be sat in front of the big screen, after choosing between sweet, salty, half and half, a bag of toffee, or blowing the budget on a bag of Joe & Seph's chocolate dipped.
However, we can still enjoy popcorn at home (and for a much more reasonable price), so we asked our team for their lockdown 3.0 film recommendations to enjoy with a side of popcorn perfection…
Blue Jay
I can't get enough of this super simple black and white film which is set over less than 24 hours and is beautifully heartbreaking. It takes a look at what happens when you run into a childhood sweetheart that you broke up with and have moved on from. It's awkward. Of course it's awkward. But there's also that shared history you just can't resist…. The film has literally two characters (played by the awesome Sarah Paulson and Mark Duplass) and is so wonderfully natural which makes sense when you find out it's actually (nearly) all improvised. Ugh. I love it.
Meg, heartbroken once, ready to be heartbroken again
Popcorn preference: Sweet and salted
Eddie the Eagle
An unexpected favourite among the 150 movies I watched in 2020, this movie based on ski jumper Michael 'Eddie' Edwards will have you rooting for Eddie to fulfil his dream of going to the Winter Olympics in no time. Where one might expect to find a cliché filled buddy flick relying on physical comedy and the appearance of Hugh Jackman alone, lies instead an incredibly well executed, heartfelt underdog story most of us can relate to in one way or another. Eddie the Eagle proves it's not always about being THE best but being your best and that even the wildest of dreams are worth reaching for.
Kat, life-coach-in-training
Popcorn preference: Butter, garlic salt and rosemary
Leap Year
Listen, I will fight to defend this as the best Valentine's Day movie ever made. After an insane series of events involving Adam Scott and a plane crash, an upbeat American interior designer (Amy Adams) ends up road-tripping with a jaded, grouchy Irishman (Matthew Goode). This film literally has everything – enemies to lovers trope, fake dating, accents, beautiful Irish scenery. Stunning. Ground-breaking.
Claudia, violent defender of finding romance in all the wrong places
Popcorn preference: Sweet and salted
My Octopus Teacher
A documentary about filmmaker Craig Foster forging a relationship with a wild common Octopus in South Africa. Sucks you into a magical watery wonderland and tickles your emotional tentacles. Spoiler alert: you'll never eat octopus salad again.
Jo, believes Octopi are friends, not food
Popcorn preference: Almond and peanut butter
The Trial of the Chicago 7
I felt like this film flew under the radar last year, despite starring Sacha Baron Cohen and Eddie Redmayne. It tackles police brutality in America in the 60s but is pretty hauntingly relevant in 2020. A courtroom drama told through flashbacks, the (true) story will have you reading Wikipedia for two hours afterwards to find out all the other details. You can also play a fun game of "what happened next", since one of them was one of the first investors in Apple, and one married Jane Fonda. Feel free to try and find out which as you watch.
Yla, fountain of knowledge on Jane Fonda's relationship history
Popcorn preference: So much butter it loses its crunch
Captain Fantastic
This film has been on my 'to watch' list for quite a while now, and I can safely say it didn't disappoint one bit. Telling the story of a reclusive family who have to reintegrate with society after the death of their mother, the film meanders through every emotion – you'll laugh, you'll cry, and you'll ponder about life for a while after finishing it. Viggo Mortensen is incredible as the philosophical patriarch of the family, and the younger cast do brilliantly at tackling the job of capturing raw moments of grief.
Joe, currently questioning the meaning of life
Popcorn prefence: Salty with a bag of Maltesers mixed in
Atlantis

Disney's "Post Renaissance" era was marked by experimental storytelling but little box office success, resulting in Atlantis: The Lost Empire unfortunately falling mostly into oblivion just like the city its story is based on. A shame given it's undoubtedly one of Disney's best in terms of characters, diversity and originality. The movie follows linguist Milo and a crew of specialists on their journey to uncover Atlantis its princess Kida who is trying to save her people from extinction. 
Kat, wannabe mermaid
Popcorn preference: Dark choco rocky road popcorn balls
On Cinema At The Cinema
It's less a film, and more of a weird internet show… It starts off as a movie review show, with Tim Heidecker and Gregg Turkington appearing as hapless movie critics, and over the course of it becomes this weird universe. Hard to explain, great to watch.
Dan, too cool for a regular movie recommendation
Popcorn preference: Always homemade, with butter and salt
SUBSCRIBE TO OUR NEWSLETTER:
Categories