Sony Xperia's Remote Play meets Mercedes-Benz World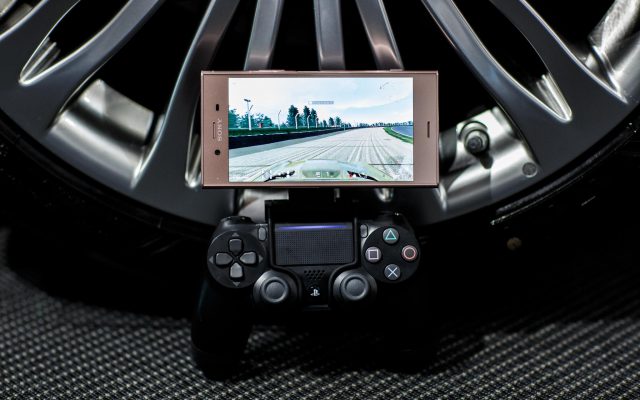 14/12/2017
"If you no longer go for a gap that exists, you are no longer a racing driver" – Ayrton Senna.
Taking inspiration from those wise words by arguably one of the greatest racing drivers to ever take to the asphalt, this week the Xperia team put their skills and nerve to the test alongside key media and influencers at Mercedes-Benz World.
Our mission, to take a group of rag tag controller wielding wannabes and hone them into track day warriors, by utilising the Sony XZ1's Remote Play app, GT Sport and a little help from the instructors at Mercedes-Benz World.
GT Sport provided the perfect environment for our attendees to get in some virtual practice, breaking points and turn in speed. The AMG drivers were on hand to coach us on where we should be pointing the car, breaking, and accelerating to shave valuable seconds off our lap times. The XZ1's large HD screen allows for pinpoint accuracy, ensuring we could nail every apex that came our way.
After the intensive coaching session it was time to hit the track in an array of German behemoths, including the C63 AMG, CLS 63 AMG, and GT Coupé. Starting with a warm up around the short handling course and drag straight we quickly acclimatised to the cars. Time for a bigger challenge: and we were more than humbled by aquaplane pan, a stretch of sodden tarmac that imitates the feeling of black ice. Here we cut our teeth throwing the rear of the car around, aiming to predict and catch it lest we spin out – it wasn't exactly a 100% success rate.
Egos reined in, nerves bolstered, and petrol in our veins, it was time to hit the main track. We met a mix of tantalising corners, seemingly donated by the Alps, and a back straight that let us put both the cars legs and our minerals to the test. Here, everything we had learnt would be laid bare, with no room for error we set off at maximum attack. Embracing speed, precision and balance we sought to conquer this ribbon of tarmac, remembering the instructors' lessons in order to eke out every bit of power from the car and more importantly, every second from the clock.
Victorious and spent, it was time to breathe easy and see how the professionals approached the same task. Who knows, perhaps with a bit more time behind the wheel or hours with the XZ1 and Remote Play, we'll be back to give them a run for their money?
SUBSCRIBE TO OUR NEWSLETTER:
Categories