Thanks Plants! A hotel partnership with Thejoyofplants.co.uk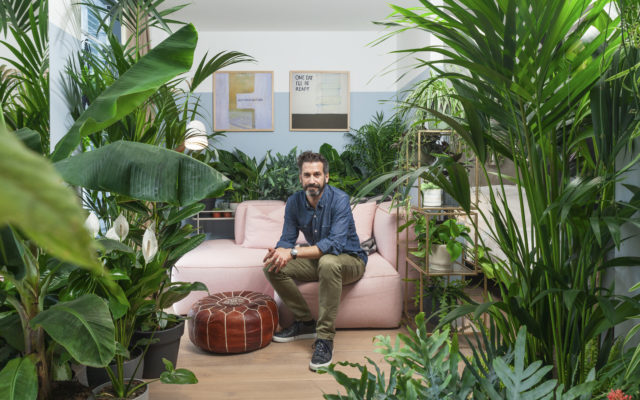 29/10/2019
With the clocks going back this weekend and research showing that we spend as little as 17 minutes outside a day during winter, the Flower Council of Holland team have been busy launching the UK's first houseplant hotel suites to support TheJoyofPlants.co.uk's ATL campaign which prompts people to acknowledge all the amazing things houseplants do for us.
Three suites, three designers, three spectacular transformations – each designed to boost productivity, ignite passion and instil tranquillity respectively. From the first-of-its-kind living moss rugs to aphrodisiac cocktails and binaural beats, our jungle suites offered an immersive forest-bathing experience right in the heart of East London's urban jungle.
We challenged three experts to transform these suites into lush indoor jungles. Award-winning biophilic designer and architect Oliver Heath created a suite perfect for nomadic workers and business travellers with plants renowned for boosting productivity.
This Morning's Mr Plant Geek – Michael Perry brought an oasis of calm with his tranquil indoor jungle featuring a living moss rug and a fully immersive plant-bathing experience in the bathroom.
Finally creative designer and Founder of Grace & Thorn, Nik Southern created a passion inducing romantic respite featuring a stunning bed botanical canopy designed to excite the senses when combined with the sounds and visuals of the natural botanical world.
Ahead of our official launch, we opened up our jungle suites to x16 lifestyle, interior and wellbeing media and influencers for exclusive overnight stays including the likes of Bustle, YOU Magazine, Country & Town House and the Evening Standard.
Danielle Saunders from Country & Town House even claimed she "had the best night sleep of my life." It's the calming effect of houseplants!
On 15th October we hosted an exclusive launch event at the Leman Locke hotel, securing over x40 media and influencer attendees, who all got to explore our indoor jungles and speak directly to the designers about the inspiration behind the each creations.
It was good for the gram too. The launch event alone saw x123 social posts with the likes of Daily Telegraph, ELLE Decoration, Financial Times, Culture Trip and The Resident snapping away.
So far we've secured x50 pieces of national, consumer and social coverage including Metro, Mirror, Stylist, Time Out, The Resident and Country & Town House with plenty more to follow!
SUBSCRIBE TO OUR NEWSLETTER:
Categories