STAGING A GHOSTLY SPECTRE FOR THE RISING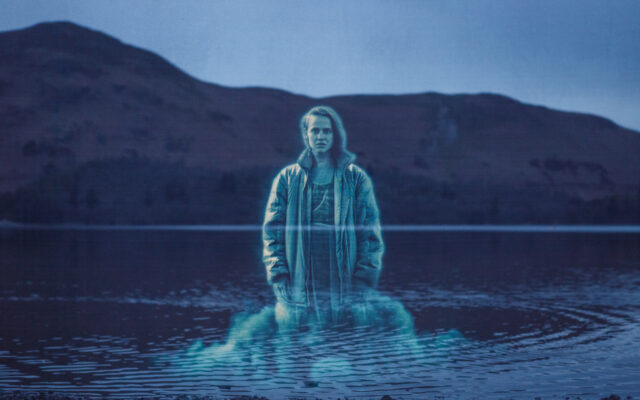 04/05/2022
In celebration of the launch of Sky Max and NOW's brand new Sky Original drama, The Rising, our team collaborated with some of the top holographic experts in the world to create a truly spooky stunt.
In the run up to TX, a ghostly apparition mysteriously appeared on the banks of Derwentwater, Lake District to mark the launch. Appearing in the early hours of the morning, the eerie figure began to rise from beneath the water set against the dramatic backdrop of the mountains. Surrounded by a grey mist, the blue-grey hue of the life-sized figure stunned passers-by who looked on in awe as she appeared to mouth the words "come find me".
Created using cutting edge technology, the stunning visual was developed with our partners Kaleida, the same team who created the viral Robert Kardashian hologram in 2020. It took months to create, and involved our team waking up in the early hours to capture shots of the hologram in the early morning sunrise. The hologram depicted lead character Neve Kelly, who in the show is seen to emerge from a lake as she returns from the afterlife to help those investigating her death to find her killer. By using an array of post-production techniques and a transparent holographic gauze, we were able to create a modern-day three dimensional 'ghost' that looked real enough to touch.
The hologram was inspired by new research we commissioned for Sky finding that more than two-fifths of Brits (42%) believe in life after death, with a further 63% admitting to believing they have been guided through life by a deceased loved one.
Coverage came from two different routes: a supernatural inspired research story through to a stunt release, sold-in alongside an incredible campaign video and imagery captured by our in-house creative team. The results were out of this world, with over 70+ pieces secured including key National hits such as The Times, Evening Standard 'Best Pictures of the Day', Daily Express x2, The Sun, Daily Star and the Mirror online. Industry fame was also at our spooky finger tips, with The Drum, Campaign and Famous Campaigns covering the stunt. Check out the video below, and you can watch all episodes of The Rising on Sky Max and streaming service NOW.
SUBSCRIBE TO OUR NEWSLETTER:
Categories