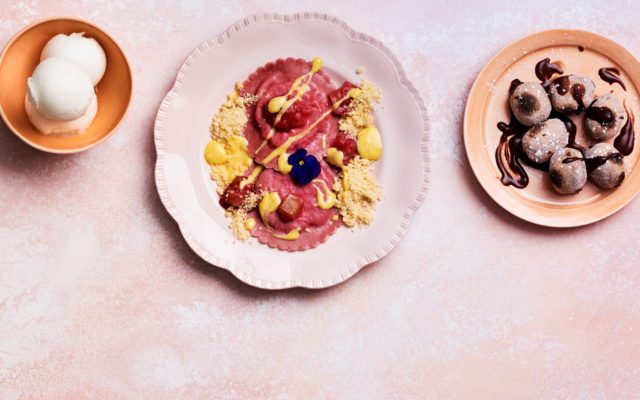 07/11/2019
Now that it's officially baltic outside, what better time to treat ourselves with a bit of foodie indulgence? To banish the winter blues, and celebrate the new Autumn menu at ASK Italian – we announced the launch of the ultimate sweet-tooths dream – ASK Italian's Three Course Dessert Menu!
The new dessert-menu concept was inspired by one of the show-stoppers on the new Autumn menu, which sees a typically savoury dish given a tantalising sweet twist: Rhubarb and Custard Ravioli. Merging two firm favourites, pasta and sweets – the dish is the first-of-its-kind. Unexpected maybe, delicious ABSOLUTELY. Forming the 'main course' on the set-menu, it was accompanied by a starter in the form of the delectable Chocolate Gnocchi followed by the Prosecco Sorbet, offering a truly Italian finish to the meal – all for just £12.95.
To celebrate the launch, we gave media a sneak preview of the delightful dishes on offer and transformed one of our branches into a Rhubarb and Custard wonderland, where even the menus were edible. Willie Wonka eat your heart out. After doing a little digging, we found out that Brits are a bunch of dessert obsessives (which came as no surprise to Fever, sweet tooth office that we are) so we knew this would make the perfect Autumnal treat.
Available nationwide and for a limited time (angry tooth fairies aren't good for business), the team secured amazing coverage in the likes of HELLO!, The Sun and Daily Star as well as high-reaching social content from food and lifestyle bloggers London is Pink and Poppy Loves London. Safe to say, ASK Italian's Three Course Dessert Menu went down a TREAT!
SUBSCRIBE TO OUR NEWSLETTER:
Categories