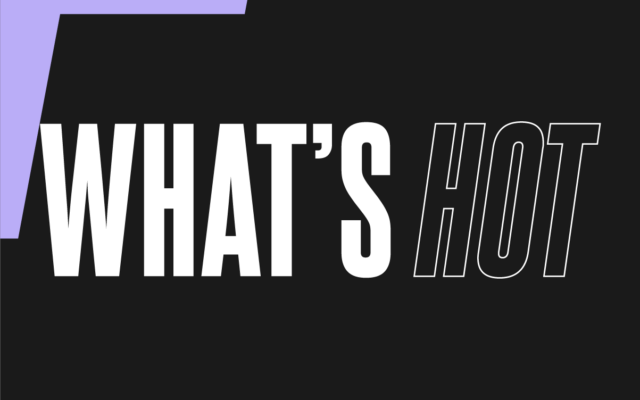 14/10/2022
You know the drill, we've herded some of our coolest cats down at Fever HQ into a room and asked them what they have seen this week that gets the What's Hot Seal of Approval. We've got an insight into emoji use which isn't quite hot – more just a terrifying education – and two pieces of work from the Beeb, and we head over to watch a livestreamed lettuce. And to highlight just how quickly our world moves, when we started writing this What's Hot we had one chancellor, and as we finish it we enter the economic age of the Hunt….what a week…
Thumbs down for the thumbs up 👍
Gen Z has spoken (well some of them, clearly not ALL) – the thumbs up emoji is OUT. Apparently 16–29-year-olds see the trusty thumbs up emoji as 'old' and 'past-it' – ouch.
Yeah, drink that in… you're most likely now unofficially not cool. We calculated that roughly 100% of the Fever office floor is now considered seriously lacking in street cred by society's wiper-snappers.  Even our wiper-snappers clearly aren't hip.
Most young people see the emoji as passive-aggressive and impolite, and the conversation has divided many group chats and workplace slacks on its intended use. The red love heart emoji, the 'ok' hand symbol emoji and the tick emoji also featured on the condemned top 10 old-person-only emoji list, for reasons that remain unclear. Just in case you needed yet another reason to overthink your text choices.
A perfect bedtime story
This World Sight Day, the BBC aired its first ever CBeebies Bedtime Story in braille. Paralympic cyclist, Lora Fachie and her guide dog Tai, snuggled down in the Cbeebies House to read a bedtime story about a young boy whose classmates think he can read in a secret code only to discover it is, in fact, braille. This was the first out of the two stories that Lora will be reading in braille, and hopefully many more bedtime stories to come.
Lora said 'I am over the moon to read a CBeebies Bedtime Story for the first time in braille. I have always enjoyed reading and hope this will encourage everyone to want to read whether they use their eyes, their ears, their fingers or a secret code. Reading feeds the imagination and I will be reading to my little one from the minute they are born.'
We love this, stories and reading should be open to all and this campaign shows once again the power of inclusivity.
Eastenders End Credits
Eastenders credit scene is iconic with its bird-eye view of the River Thames, however it became even more symbolic this week when the showrunners decided to use a new image.
To mark the final episode of Frozen Planet II, a series which has really hit home the reality of how global warming will irreversibly change the world forever, the EastEnders credits shot showed a haunting look at how melting ice caps as a result of climate change may impact London. It's an eye-opening and impactful look at the Thames bursting its banks sending much of the capital underwater.
The striking image reminded viewers that what happens in the coldest parts of the world directly impacts us here in the UK and hopefully encourage everyone to make small but effective moves to change.
The lettuce becomes newsworthy
Ok so earlier this week The Economist coined a new term for PM Liz Truss, the Iceberg Lady. And summed up her time in power as likely to have a shelf life comparable to that of a lettuce. BRUTAL.  And today, we have become mesmerised ( potentially due to some PR Week Award related hangover), by a livestream of a lettuce. The Daily Star, who are known for their legendary takes on political manoeuvrings have created a livestream to see if Liz Truss' tenure can outlive this salad stalwart that to date has been very much not on the media agenda. We are just enjoying the stream…and the lettuce's moment in the sun.
SUBSCRIBE TO OUR NEWSLETTER:
Categories