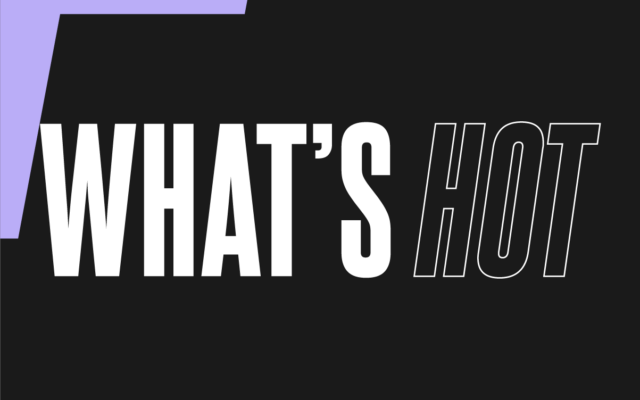 18/11/2022
What's Hot is here for another round up of everything we've loved this week. A week we are closing out with a potential RIP for Twitter. Surely not? Well only time will tell, but for now some of us are making the jump to Mastodon, some others are biding our time and watching Twitter eat itself, but who knows where we'll be next week. Anyway, onto happier things, Princess Diaries Returns: The Revenge of Genovia (assume that's a working title), Neighbours back from the dead and Nick Knight in the metaverse all rounded up below… have a read.
Prinnie Diaries 3 
Millennial darlings were thrown into a tizzy earlier this week when the news that early-noughties teen hit film The Princess Diaries, will reportedly see a third instalment in the near future.
However whilst it is very early days in the production journey, it didn't stop everyone absolutely losing their minds at the thought of their favourite childhood film returning to the big screen almost 20 years later with no hint of the original cast nor sense of whether or not the early-noughties format of Disney films can work in our modern society… but hey Julie Andrews might come back, right?
Nostalgia aside, we think it's time to take a good hard look at the reboot trend and ask ourselves a very good question – do we actually like what we're making here? Given the recent reboot of Hocus Pocus, flopped massively with audiences craving the same hit of dopamine the first movie gave us over 25 years ago, it's clear that not everything that was good back then will necessarily be good now. And while people adored Anne Hathaway's break-out films all those years ago, can we really believe a sequel two decades later will carry the same level of charm?
If you enjoy you enjoy, just don't go crying when it turns into a right royal s**tshow…
Neighbours is back from the dead
We all bid a tearful goodbye to our friends on Ramsay Street earlier this year, Kylie came back with a non-speaking part, Margot Robbie ended up with Karl Kennedy and a tsunami ripped through Erinsborough taking all its occupants with it – well, we didn't actually watch it but imagine it was something like that.
But never fear, Susan and Karl have only just returned from their Contiki tour to be greeted by the news that Amazon FreeVee has decided to breathe new life into the famed Aussie soap.
And fair play to Amazon FreeVee – having launched as IMDB TV in September last year and rebranded to FreeVee in April. Picking up a show that has such huge popularity and talkability, and guaranteed global coverage with this news is a very smart move.
So yes, just like many of its former residents, Neighbours has come back from the dead.  So Twitter might be in the toilet, the cost of living is at an all-time high but at least we can grab a cup of tea and finally catch up with our neighbours, or should we say 'good friends'…
A new creative metaverse
Nick Knight is one of today's most influential fashion photographers, best known for his collaborations with the likes of Vogue, Louis Vuitton and Tom Ford… to name but a few.
Having conquered the real world, it was only a matter of time before Nick tried something in a virtual space and this week Nick has announced he is building a 'new civilisation' in the metaverse.
Nick has partnered with none other than Jazzelle Zanaughtti to create 8,000 one-of-a-kind avatars, that will be featured in his very own metaverse outpost which will mirror his IRL photography and fashion space.
The aim here is to push for a beautiful and creative metaverse, one that is not built around the corporate world. Knight believes it is important that there are people like Jazzelle involved with the metaverse to help creatively shape it and prevent it being shaped by ecommerce.
Nick has enlisted a team that also includes nail artist Marian Newman and the hairstylist Eugene Souleiman as they put their creative minds together to incorporate some real-world physicality to the project and we're very excited to see the outcome.
SUBSCRIBE TO OUR NEWSLETTER:
Categories