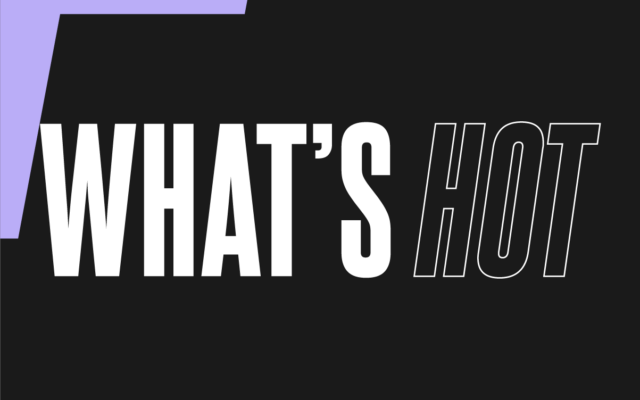 19/08/2022
We've had a bumper week for live music and exciting TV announcements. This week's What's Hot covers Squid Game, Rex Orange County, Wednesday and Coldplay. Roll up, roll up, read all about it.
The game's not over yet: Squid Game series 2 is on its way
It has been a while since Squid Game hit our screens, and well, took over the nation, and it's about time that the survival drama was brought back to binge… or leisurely watch.
If you're like us and are a massive fan of Squid Game, then you too will want the inside scoop as to what we can expect from series two, and we're here to share it.
Hwang Dong-Hyuk, the series creator, writer, and director has recently given further insights into the future episodes of Squid Game – so here's what we know. The new series will once again put humanity to the test through a series of games, but this time Hwang is looking to answer the question, is solidarity between humans really possible – interesting, right?!
In various interviews Hwang has also hinted that we may be seeing some familiar faces once again, such as Lee Jung-Jae who may be taking back the role of the final survivor gamer Gi-Hun. Other than this Hwang has alluded to the fact that he may try and bring some characters back for season two.
All these unanswered questions have really got the minds of the Fever team racing, so we'll continue to investigate and if you're looking for any further updates What's Hot could be the place to find them.
Rex Orange County is 'one in a million' at final 2022 gig
This past weekend saw Indie music star Rex Orange County's final performance for the foreseeable future in London – and it wasn't one to forget. Famous for songs such as Loving is Easy and Pluto Projector, the artist has recently cancelled the remainder of his Who Cares 2022 tour for personal reasons – with no set return date as of yet.
Though emotional, he gave an amazing performance to over 20,000 people at Gunnersbury Park, and was quoted as saying "Thank you for giving me one of the best shows I've ever done in my life". A bittersweet night for his fans, with not a dry eye in the house by the end of the gig – including Rex himself.
We wish him all the best for the rest of the year and can't wait to hear more of his music when he returns!
Trailer for Tim Burton's Wednesday has landed
Over the years we've seen various forms of the Addams family adapted from the silver screen to your TV screen and boy oh boy have we loved them. Today, Tim Burton is bringing us a spin off on the OG emo queen herself, Wednesday Addams. Starring Jenna Ortega as Wednesday and Catherine Zeta Jones as Morticia Addams, we'd say the casting director did a pretty good job.
The series will follow Wednesday attending 'Nevermore Academy' where she will attempt to master her new psychic abilities and solve a murder mystery connected to her family's past.
The Fever team cannot wait to dive back into the adventures of The Addams Family *finger snap x2*. Culture Club, anyone?
Coldplay come over all sustainable in London
If you've not been living under a rock for the past few weeks, you'll know Coldplay have been back and performing in London with six (as many as six, Chris!?) sold out Wembley shows! Big news in itself, but even bigger news is that all of their concerts are powered by 100% renewable energy. Their backstage generator runs on reused cooking oil, the show batteries with solar, wind and other green energy and they use reusable fuel for air transport wherever possible.
Coldplay even made reusable energy front and centre of their concerts and enjoyable for concert goers by having power bikes and kinetic dance floors that powered their shows. They were also giving out LED wristbands for concert goers to enjoy that were made from plant based compostable materials and given back at the end of the show to be reused.
Our TikTok pages have been overloaded with videos from the concert, including the power bikes, kinetic dance floors and LED wristbands and must say, we wish we could've been there!!
SUBSCRIBE TO OUR NEWSLETTER:
Categories