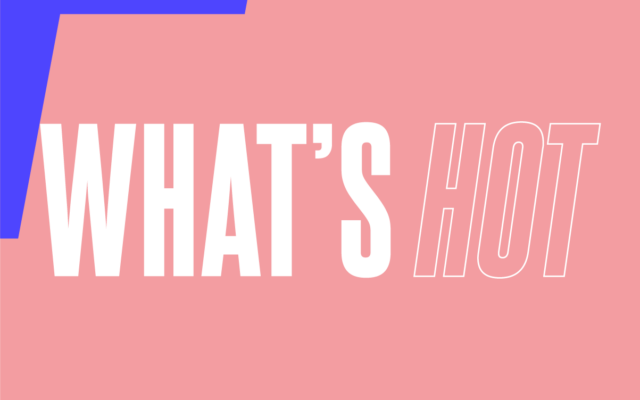 20/01/2023
Right then, What's Hot Faithful. How's it going? Another week in the bag and it's time for your weekly dose of news from Fever Towers.
On our way to the pleasure palace (and no, don't be rude)
Everyone's favourite Italian restaurant chain – no, not Pizza Express, don't be silly – is opening its fourth London restaurant today! The actually French-owned Big Mamma, home to the viral cheese wheel carbonara at Circolo Popolare, is heading to West London and it's doing so with a big bang. Dubbed as the "Pleasure Palace", Jacuzzi will be a trattoria set across a four-storey building located in High Street Kensington.
A maximalist's dream dining experience, this heavenly paradise of food has a Sicilian mezzanine with a retractable roof and, as always in a Big Mama restaurant, the toilets will also be the perfect selfie opportunity as the group describes Jacuzzi's toilets as "the glitter ball to a cove of mirrors to get you feeling like Michelangelo's David — just peachy".
As always, the food already has our mouths watering, with the menu boasting dishes such as Lobster Risotto, a Basque grill section with finest steaks and (we assume) very delicious Culatello di Zibello PDO from the cusp of Apennines and overlooking the valley to Parma. We also can't wait to get our hands on the
creamy Burrata Al Pistacchio, as that is definitely a combination that you can't go wrong with.
With Big Mamma promising that Jacuzzi is "more than just a trattoria; it's a divine Italian mansion where the naughtiest fantasies come to life", we will be making our booking ASAP.
Nepo-no longer
We've all heard the term 'nepo-baby' and we've most likely all seen Hailey Bieber attempting to rock a 'nepo-baby' tee-shirt – an interesting attempt to make light of a pretty disastrous meme-fuelled situation.
The creative industry needs to do more to help working class and minority voices in. The old adage of who you know, more than what you know isn't acceptable.
Well, Hannah Karpel is here to break barriers for working class creatives and save the scene – and we're one hundred percent on board. Hannah has spent the past 4 years at Central St. Martins studying BA Fashion Journalism. Throughout her time Hannah Karpel noticed an increasing disparity in the opportunities different students were getting and this led Hannah to making a documentary. Here 'Breaking the Class Ceiling' was born, a documentary which explores the barriers emerging creatives are facing.
Since its release, the film has been shown in Everyman cinemas across London and at Kings Cross' Screen on the Canal.
It's a great watch on an important subject, we suggest you head down to your nearest showing and watch it ASAP.
Shakira and Pique give a Masterclass in Pettiness
After twelve years of being together, global superstar Shakira and Gerard Pique (a Spanish football player) called it quits on their relationship after rumours of
Pique playing away from home – and we're not talking about the Santiago Bernabéu.Now, Shakira has released an evidently autobiographical rap ridiculing Pique's new relationship and she's breaking records in the process. The song, entitled
'BZRP Music Sessions #53', has become YouTube's most watched new Latin song in its history, reaching more than 63m views in 24 hours.
A brief breakdown of some of its wildest claims below:
"You left me with my mother-in-law as a neighbour, with the press at my door and a debt to the taxman"
Most people like to keep their in-laws at a distance, but Shakira's live… next door. Unfortunately for them, she has reportedly been blasting BZRP #53 out of her home. She also takes aim at the Spanish tax authorities who allege she committed tax fraud and are currently seeking an eight-year prison sentence for the years she lived in Barcelona, where Pique played football.
"I'm worth two 22 year olds, you traded a Ferrari for a Twingo, you traded a Rolex for a Casio"
Pique's new girlfriend Clara Chia Marti is rumoured to have begun seeing the footballer when she was 22. Shakira makes it clear what she thinks of her 'replacement' and Pique has decided to publicly respond. He was recently videoed driving a Twingo to work and also announced a partnership with Casio to sponsor his 7-a-side Kings League.
The crazy claims don't stop there – a jam jar is involved – and while the internet laps it up we'll continue to listen, as one thing remains true: breakups suck but
they make great music.
SUBSCRIBE TO OUR NEWSLETTER:
Categories