22/07/2022
Was it hot this week? No one mentioned it… We dread to think how many Magnum ice creams were consumed (personal record was three #proud) and PSA, the Magnum white chocolate and cookie flavour is incredible.
Anyway, onto this week's What's Hot from Fever HQ covers FIFA, sun poverty and Conor Shields' interesting tin foil experiments.
Marvellous Margate
The eagle eyed amongst you probably noticed that last week there was no What's Hot from us, and that was because we were Out of Office together for our Agency Away Day. We took our creative juices to the seaside and used the fresh sea air and an extended period in a new neighbourhood to host various creative sessions. It was our first full agency away day in person for over two years and was the perfect opportunity to share insights, knowledge and indulge in an ice cream or two. If you haven't been, we highly recommend Margate – the slightly cooler, grungier sibling of nearby Whitstable. It's great for any arty folks to get their cultural kick. And the fish and chips are ledge too. Success all round, really.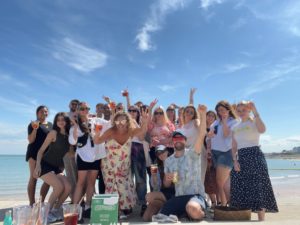 FIFA's first female cover athlete
You may have noticed that here at What's Hot Towers we're fascinated by the growth of women's sports in traditionally male dominated games, and in particular, how brands are playing their part in elevating the game and bringing it to new audiences.
At the moment it feels like we're on a roll, every match around the Women's EUROs has felt like a step forward and with Gabby Logan announcing that 9 million people watched England's incredible comeback against Spain on Wednesday night, it is obvious the women's game is truly having a moment.
This week, EA Sports announced that FIFA 23 will not only add women's clubs to the game for the first time – having added women's national sides to the FIFA 16 edition, but Chelsea's Sam Kerr will also be the franchise's first ever female cover athlete alongside none other than Kylian Mbappé. Hat's off, EA Sports.
Let's bring an end to #SunPoverty, one sunscreen at a time
Hot weather has many perks, but I think we can all agree after this week, it also has massive disadvantages and given the climate crisis it's sadly looking likely that heatwaves are going to become part of our summers.
Personally, we have been slathering ourselves with SPF 50 every single day. However, this isn't cheap, and no one should have to debate whether they should be left to choose whether to purchase food or sunscreen.
That's why we LOVE this initiative from beauty website, Escentual, which has joined forces with Clarins, Shiseido, and countless beauty experts – including skincare Queen, Caroline Hirons – to end sun poverty. The brand will be donating 30,000 high-factor sunscreens to lower-income families across the country which, with the cost of living continuously rising, makes it a fantastic initiative.
Skin cancer is currently one of the fastest-growing cancers in the UK, making sun protection more important than ever. Escentual will donate one sunscreen for every Escentual Sunscreen SPF50+, Clarins or Shiseido sunscreen sold directly to schools or via charity partners InKind Direct and Beauty Banks – so get your orders in now and help end #SunPoverty.
Speaking of the sun, our very own Conor Shields has been experimenting this week with… Tinfoil Chic?
It's safe to say following the sweat-fest that was Monday and Tuesday's, the majority of us have experienced the horrors of trying to sleep during a British summer and we were all absolutely foaming at the mouth, and willing to take drastic action to ensure a nice, cool kip.
Thanks to the nation's favourite pseudo-mother and cleaning TikTok sensation, Ann Russell – many of us found solace in plastering our windows in tinfoil in order to reflect the sun's deadly rays, and prevent the heat from getting in. And besides looking like Judy Jetson's holiday home – little did we know this would work! One Fever staff member noted that it managed to reduce the temperature of their toddler's room from 33 right down to 25 degrees!
The mix of cardboard and tinfoil may make your flat look like some sort of Walking Dead style hideout but my word, what a sweet cool temperature.
SUBSCRIBE TO OUR NEWSLETTER:
Categories