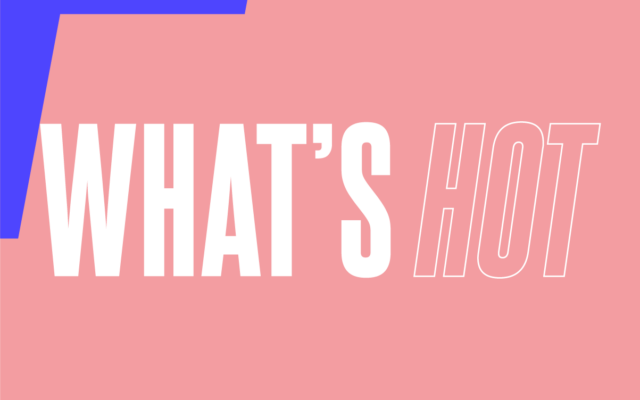 24/02/2023
And we're back! Your favourite weekly dose of culture is here; this week, we're talking Fashion Week, The Beatles x Rolling Stones, brand new café's and football! An eclectic mix, so why not just dive right in.
The Rolling Stones meets The Beatles
Rock legends Paul McCartney and Mick Jagger have confirmed that after decades long of rivalry, they will be creating a song together. Paul McCartney is set to feature on a new song by the Rolling Stones which will be the bands 31st studio album! Paul will be playing the bass for one of the new songs, though Ringo Starr has shown no interest in being involved in this collaboration though we think this would make this collaboration a little bit better. The album from The Rolling Stones is rumoured to have many more star appearances, but nothing has been revealed yet. We can't wait to see these two worlds come together (insert Beatles joke here), and even better, listen to the song; we have no doubts it will give us pure satisfaction (sorry can't resist).
London Fashion Week back with a bang
Having been thwarted by Covid restrictions and the Queen's death last September, AW23 was perhaps the first season that we've seen London Fashion Week back in all its glory. Between Daniel Lee making his debut at Burberry and Ian McKellen performing a monologue at SS Daley, we round up the best bits below:
Burberry is back
Bradford-born Daniel Lee, previously of Bottega fame, made his long-awaited debut at Burberry. There aren't many who can draw the fashion set to a tent erected in a South London park but Lee is one of them. Soundtracked to the sounds of Burial, another South London-inspired artist, national legends Bianca Jagger, Skepta, Jamie xx, and Britpop icon Damon Alburn all sat front row at a show that both celebrated and questioned British heritage.
On the runway, many of the clothes felt like a clear homage to another British legend – Dame Vivienne Westwood – and her punk-inspired label. However, the show wasn't just a celebration of British heritage; it was an interrogation too. T-shirts emblazoned with the slogans 'Change is inevitable' and 'a rose is not always a rose' walked the runway alongside subversive back-to-front trench coats and asymmetrical scarf dresses that both acknowledged the past and looked to the future.
Poetry and performance at SS Daley
SS Daley's sailing-inspired show saw Anna Wintour sat on a flotation device in the basement of a Carnaby Street club and Ian McKellen stroll the runway, monologuing from an old book. Set to Kate Bush's The Ninth Wave, models in pea coats, caps and embroidered cardigans cemented the designer's homage to a life at sea.
London opens café dedicated to helping people with disabilities 
Fair Shot has opened a superb new café in Covent Garden this February that is entirely focused on tackling the unemployment rate amongst adults with learning disabilities. The café enrols 12 young people with disabilities into its hospitality training programme. After completing the programme, the trainees are placed in a variety of positions, from hospitality positions to corporate offices.
Found at 3 Slingsby Place, Fair Shot Café, this café is the area's first ever non-profit enterprise! Plus, the new location is an even bigger unit than its initial café opening in Mayfair in 2021.
The CEO and founder of Fair Shot, Bianca Tavella, commented that "We're really excited about what The Yards will be able to deliver for us, being such a well-established and popular location, with a blend of innovative concepts and operators based there.''
This is an incredibly powerful endeavour to see and at Fever, we will be heading down to Fair Shot to taste ALL the treats and snacks on our lunch breaks! Alternatively,  if you're not located nearby, anyone can support this amazing enterprise by checking out the café's donation page, but we think this is definitely worth the trip!
Football is coming home to theatres near you!
Earlier this week it was announced that Joseph Fiennes, the man who stole our hearts in Shakespeare in Love and made us regret it with his role in The Handmaid's Tale, will be playing the national heartthrob and England men's football manager, Gareth Southgate, in a new play at the National Theatre. Both men look absolutely fantastic in suits, and we can't wait to see how Fiennes presents himself as our waist coated hero.
Inspired by Southgate's journey since his infamous penalty miss for England in '96, the play will examine what the identity of a football team means to a country and Southgate's resurrection of the England national team. The roles of players like Harry Kane and Marcus Rashford are yet to be cast.
'Dear England', which takes its name from an open letter written by Southgate to England fans ahead of the 2021 Euros, will be at the National Theatre between June 10th and August 11th.
SUBSCRIBE TO OUR NEWSLETTER:
Categories