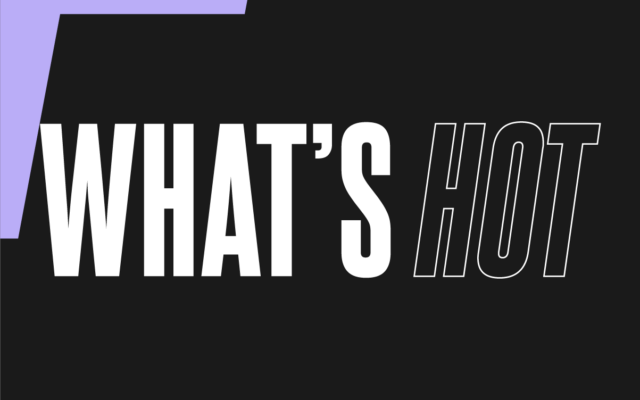 24/06/2022
And they say climate change isn't real, eh? After another week of hot weather, sprinkled through with tube and rail strikes, the Fever team is bringing you the hottest of the hot news this week.
We've got Glasto FOMO (with a quick side bar on Brad Pitt), are writing our own memes in an attempt to go viral, falling at the feet of King Mick Lynch and discussing Ekin-Su's crouching skills.
Glasto FOMO
We're not sure what it is about music festivals that gets us feeling so nostalgic – is it the lack of sanitary bathrooms? The sea of poorly constructed tents and stacked beer cans? Or maybe it's the ten quid single G&Ts and the shared experience of smelling really, really bad by day three?
Whatever it is – Glastonbury is back after a three-year hiatus, and those of us left in the office writing 'What's Hot' entries are raging that we couldn't secure tickets. Anna, one of our amazing Senior Account Managers, took an early finish yesterday and is currently on-site – here's hoping she comes back with her phone intact this time.
Glastonbury Festival 2022 is being headlined by Billie Eilish, the coolest octogenarian out there, Sir Paul McCartney and US rapper Kendrick Lamar. The traditional Legends Slot is being taken on by Queen Diana Ross, and other notable acts include Olivia Rodrigo, Lorde, Glass Animals, Foals and Wet Leg.
Meanwhile, this writer is sat typing out what others will be watching at said festival, bitterly wondering whether she'll have enough time for a shower before going for drinks tonight, or if she's fated to look like 'taxidermy Brad Pitt' in GQ's newest August cover shoot for the rest of time.
She's a 10, but she says she's only going to read two chapters and next thing she knows it's 3AM
If you've opened a social app in the last few weeks, you will have definitely come across the 'she's / he's a 10 but…' meme. What started off on TikTok has made its way onto Twitter and has dominated the TL's of absolutely everyone.
TLDR; the whole point is to rate an imaginary lover on a scale from one to ten, before presenting a trait that might affect their score. The trait, more often than not, is something absolutely ridiculous like 'she's a 10 but she uses goggles in the pool' or 'she's a 10 but she asks you if you'd still love her if she was a worm' (but also, if you wouldn't, get out of here).
According to Know Your Meme, several tweets went viral on the 18th of June – probably because its setup means the possibilities of combinations are endless, proven through some creations of our own:
She's a 10 but she still BCC's journalists instead of using Mail Merge
They're a 10 but they use the expression 'circle back'
If you don't know, get to know.
All hail King Mick Lynch
As a (very) hard-working consumer PR agency working, we're always looking for ways to learn more about our industry, our craft, our skills (our line managers say we have to) – and this week we were given front row seats to a masterclass in both crisis comms and effective interview technique – and it was broadcast on every single news programme out there, free for all.
We're of course talking about the incredible performance being put in by the RMT's Secretary-General, Mick Lynch, as he tackled plenty of questionable interviews over this week's national rail strikes, as rail workers continue to dispute salaries and current working conditions.
From Piers Morgan's baffling accusation of Mick secretly being a villainous doll from a 60's TV show, to an onslaught of leading questions from the nations' biggest broadcasters, Mick appeared unshakeable and was consistent in his message, his ability to speak to cut through the BS, and ensure that not one challenger got the better of him. As cringe-inducing as these interviews are to watch, media trainers, PRs, spokespeople, whoever you may be – there's a thing or two to be learned from all of this – and big Mick is handing these tips out on a silver platter!
Ekin-Su: a liar, an actress, and our fave (but not our type on paper)
I've got a text!! Love Island is officially in full swing and it's already heating up. It's been eventful to say the least: dramatic exits, bombshells, awkward conversations, a night in the hideaway, exes turning up and plenty of dumpings and recouplings – and it's definitely getting juicier (HURRY UP CASA AMOR!).
So, looking back on the last three weeks, who are your favourites and who's your type on paper?
Although it's hard to believe, we're into the third week of Love Island 2022, and we've already spent almost 18 hours of our life watching it. Today we're going to talk all about Ekin-Su. She has been providing us with entertainment, but more recently we have seen her in the firing line. Starting with her sneaky kiss with Jay on the terrace, where she was very quickly called out by Davide (which was iconic in itself) and not long after, she seemed to have found herself in a pretty heated argument with some of the girls in the Villa.
And NOW it looks like she's on thin ice, as the new bombshell Antigoni is out to steal her man. Poor, poor Ekin-Su, what are you gonna do?
Well, we don't know because we need to catch the next episode… but we're sure there is plenty more where that came from, and we are very excited to see what happens next in that villa.
And with that the weekend is nearly upon us. Have a good weekend folks!
SUBSCRIBE TO OUR NEWSLETTER:
Categories