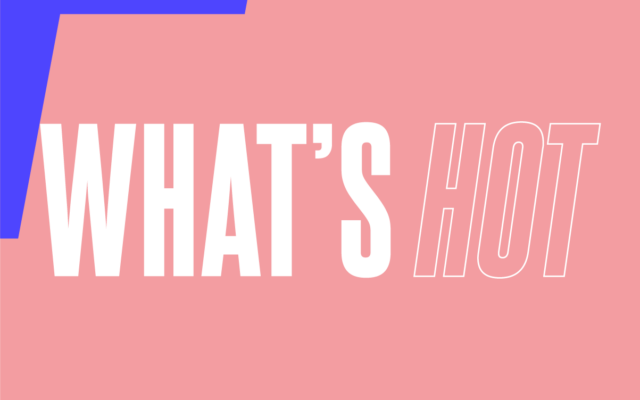 07/10/2022
We know why you're here; you want to read about hot stuff… hot stuff from this week. Cool stuff, that's hot, that's happened this week, right? We got you covered. October's here and that brings with it spooky season (yeah, we're about to talk Scooby, folks), Black History Month and its incredible line up of events, exhibitions and ways to learn, and Bella Hadid taking over our social feeds with that dress.
Black History Month: October 2022 
October is the second-best month of the year (after November, this writer's birthday month, naturally). It's the month when Autumn truly kicks in: Pumpkin Spice Lattes taste even more delicious, leaves dramatically fall to the ground – honestly, same – and spooky season starts. It's also Black History Month here in the UK, and there's plenty of great events this month that honour the too often overlooked achievements of Black Britons. Here are some of the highlights we are most looking forward to…
The London Transport Museum will be looking at the impact Caribbean people have made on the capital's transportation with the 'Legacies: London Transport's Caribbean Workforce' exhibit. Foodies can head to Natasha Pencil's inaugural Black Farmers Market at POP Brixton where they'll be able to browse stalls from the black community. The Museum of London marks Black History Month with an after-hours talk, where Senior Curator Francis Marshall will explore black artists working in London from the 1980s to the present day while the Migration Museum is running a series of workshops hosted by children's author Kandace Chimbiri.
Black Feminist Bookshop will also be running collaborative book club event as part of The Advocacy Academy's Black History Month programme. Guests will be able to join discussions on Black British history through a feminist lens before enjoying some free vegan Jamaican food and music. Beauty lovers should check out Curlytreats Festival: Black Hair Stories, a one-day festival celebrating black hair.
As you can see, there's something for everyone, so make sure you spend this month growing and educating yourself, so we can make the world a better place, one educated mind at a time.
Bella Hadid's spray-on Coperoni Dress
If you haven't seen this then have you been living under a rock? Towards the end of an already amazing Fashion Week in Paris, Bella Hadid and designer Coperoni took it one ENORMOUS step further…
Bella Hadid stepped onto the runway (not nude as some of our more panicked press stated) but also not in anything that could be considered well, couture fashion. She then stunned the crowd at Coperoni's S/S23 fashion show with a three person team coming on and spraying her body with a weblike substance, to create a one-of-a-kind dress that appeared before our eyes.
It wouldn't be Paris Fashion Week without a major gasp moment – and the Coperni SS23 show concluded in the most spectacular fashion with Bella Hadid acting as a human mannequin for a spray-on dress that was fashioned before the audience's eyes. pic.twitter.com/nroyqo9qdK

— British Vogue (@BritishVogue) September 30, 2022

Coperni owners, Sébastien Meyer and Arnaud Vaillant told Vogue before the show that the inspiration for the dress came from wanting to merge fashion and technology. Everyone in the crowd was in complete awe as the ten-minute process of spraying the dress onto Bella unfolded and everyone at watched at home on social media – over and over again!
Its fast become one of the most talked about things to come out of Fashion Week in a long, long time and it is up there with being the most iconic moment in fashion full stop in this humble writer's opinion.
Scooby-Doo! Is back and it's worth the wait
As one tweet put it: Google Velma. Nothing else. Just Velma. Go now.
It was a nice touch from Google to celebrate the announcement that Velma will be openly gay in the upcoming animated film Trick or Treat Scooby-Doo! After many years of scriptwriters giving nods to the true depth of Velma's character, we are finally going to see an on-screen romance for the character first seen in 1969!
Fans have been waiting for over 40 YEARS for the real Velma to be shown, and their prayers will be answered when our brainy, beloved heroine meets the villainous leader of the costume crime syndicate Coco Diablo in the new film, and instantly falls in love.
It has been speculated that Director James Gunn had initially planned to make Velma a lesbian in the 2002 live action Scooby film, and in a now deleted tweet Gunn disclosed that he did in fact try to keep this in the script, but due to 'edits' (FFS) Velma's true character was watered down.
This is a massive step in the right direction, and the evolution we want and need to see, so if this gives us an insight into the future cartoons then you can count us onboard.
And that is it from us for another week – stay safe, warm and put your washing on outside of peak times.
SUBSCRIBE TO OUR NEWSLETTER:
Categories