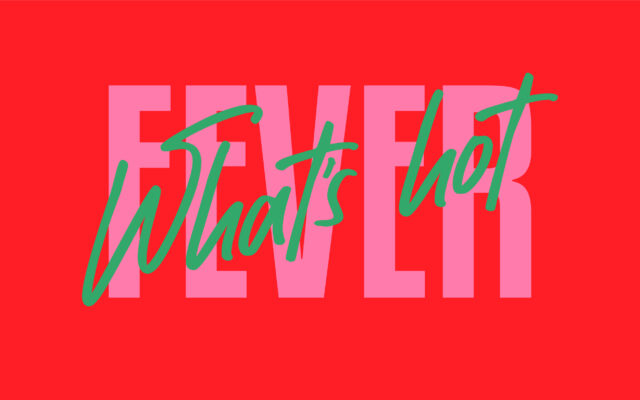 02/10/2020
Cold isn't it? Wet isn't it? Gross isn't it? To take our mind off the fact it's now October (how?! Wasn't it March a month ago?) and it's Baltic outside, we've been taking a look 'What's Hot' to warm us right up. This week we've got a takeover we can massively get behind, period pride, eighties love, baked goodness and baked beans. Check it out.
The take over we are very much here for: #SharethemicUK
Black women including Bernardine Evaristo and June Sarpong will take over the Instagram accounts of prominent white women, including Gwyneth Paltrow and Victoria Beckham, for a day in a campaign to amplify black female voices and work. Launching yesterday to coincide with Black History Month this campaign. Aimed at amplifying black women's lives and stories it has the potential to reach a combined social following of over 175 million followers. Check out the # on Instagram to see the stories being told.
The brand collab you'll need to read about this week: Patone x Intimina
This week, Pantone launched a brand new, bright bold shade of red paint called 'Period' which we think is brilliant.
Designed to encourage period positivity, Pantone partnered with Swedish feminine care brand Intimina as part of the Seen+Heard campaign. The bold red paint aims to about positive conversations about periods which are still seen as taboo in much of the world. Period poverty still impacts 1 in 5 American teenagers and women in India are still often banned from cooking or touching anyone on during their period.
We love this really simple, really bold, brand collaboration.
The show you need to watch: Great British Bake Off
The end of the British summer means a couple of things; less hours of sunlight in the day, ditching salads for stews, and the return of the nation's most-loved and innuendo filled reality TV show – The Great British Bake Off, and we're already off to a belter.
Last week's premiere episode offered pure drama, as keen baker Sura dashed Dave's pineapple-upside-down cakes across the bake off tent in a covert attempt at sabotage. Yes, this show is actually real. As well as being the perfect antidote to all of the grim goings-on in the world, GBBO is a social meme machine, with Twitter erupting with hilarious commentary every week. #GBBO.
The Halloween mash-up we're thinking about: Heinz Cream of Beanz
Don't get us wrong, we love Halloween. We love wild food mash-ups. But the latest foody release from Heinz has out stomachs churning a bit if we're honest (but maybe that was the point).
The Monster Mash-up cans will be a mix of Cream of Tomato Soup and Beans. Yup. Tomato soup with baked beans in. Yum? It's an interesting move to celebrate both Halloween, and Heinz soup being sold in the UK for a whopping 110 years. No wonder it's such a pantry staple.
Sure, it has to be Heinz, but does it need to be Cream of Beanz?
The trip to the 80's you'll want to take this week: Deezer's 80's Drive In
Who doesn't love a drive in? We've seen them become super popular as the ultimate social distanced night out. But Deezer really caught our eye with their take on the drive in this week to celebrate National Album Day. They'll be hosting a drive in night of original tour performances by out 80's favs – think Madonna, Bowie, Prince and Stevie Nicks – and to top it off, all the food is at 80's prices! 90p for a drink? Bargain.
To top it off, all proceeds are going to the Help Musicians Charity. Lovely stuff.
SUBSCRIBE TO OUR NEWSLETTER:
Categories