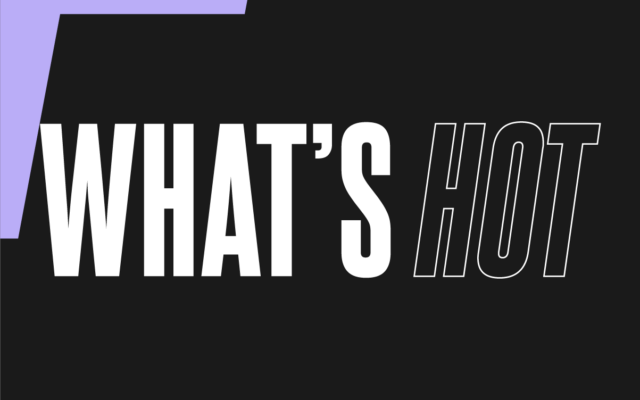 09/07/2021
What's hot this week? Footballers lip-syncing for their life, little people making big differences, Snapchat betraying me and having a tubby hot summer…
Worlds collide
Personally, I would call myself a casual football fan and a casual Ru Pauls Drag Race fan. By that I mean I enjoy Drag Race UK, and I enjoy watching England win (Wait, am I super patriotic? Who knew). This week, the two world's collided when BBC Sport were asked on Twitter to explain Italy and Spain going into extra time in Drag Race terms, replying: "Italy and Spain are lip syncing for their (Euro 2020) life". Nicely done.
Little people making a big difference
In a week where Emma Radacanu got so far in Wimbledon, we were more than aware that the youngest people can make the biggest difference. That's why we wanted to celebrate Millie Goad, the youngest person ever to climb 15 mountains in under 24 hours. 9-year-old Millie was raining money for Macmillan Cancer Support, completing the 'Welsh 3000s Challenge' in just 23.5 hours. She not only set a new record, but also raised over £3,000 – we wanted to celebrate Millie's hard work via our Fever Citizen Project so have been sharing her work with some of our media contacts, and have secured coverage in the Surrey Comet and The Sun (so far)!
Any guesses for the most downloaded app in June? That's right, TikTok is at the top, once again. Despite data safety issues, content concerns, and dumb dumb trends and challenges, ya boi TT is currently ruling the roost. If you wanted to guess what was next, you would guess Instagram, right? Wrong. Somehow, it's Facebook.
The real surprises this month are Snapchat and Zoom. Our Top #5 are TikTok, Facebook, Instagram, WhatsApp and Messenger – no surprises there. Next we have Zoom (didn't we all download that like 14 months ago?), with Snapchat in seventh place. The only reason I can think that Snapchat would have done so well is the cartoon filter that "Disney-fied" your image (very very cool), however despite this technological marvel, Snapchat is in my bad books for betraying me and sending my old Snapchat contacts a notification that I had re-downloaded Snapchat. What a snake.
No, Tubby hot summer is NOT the ironic name of one of my WhatsApp groups. It's actually the Teletubbies way of telling us that they're all vaxxed baby, and ready to start living their #HotGirlSummer lives. While Tinky Winky and Laa-Laa opted for Noo-nson & Noo-nson, Dispy and Po opted from AstraTubbica, which I found absolutely hilarious at the pub, yet retrospectively I'm not sure it's the artistic wordplay I originally thought it was.
Perhaps the strangest part of their vaccine certificates is the fact that all the Teletubbies have the same birthday. I know they all live together and everything but honestly, I barely realised they were siblings and genuinely thought Tinky Winky was much older than Po. The most stressful revelation came from Twitter user @jeremysmiles, who said "the Teletubbies have confirmed that they are all 18 which means that they can be drafted into war".
An account to follow
If the news is all getting a bit much for you, we implore you to follow @HaveIGotNews for a flipped-turned upside down version of current affairs. From England and Matt Hancock's nervous semi, to the 12 people who still have the Track & Trace app, to Priti Patel's lobster-boiling hobby, it'll keep you entertained for hours. Or maybe a few minutes. Or a few seconds. Honestly, it depends how fast a reader you are.
SUBSCRIBE TO OUR NEWSLETTER:
Categories