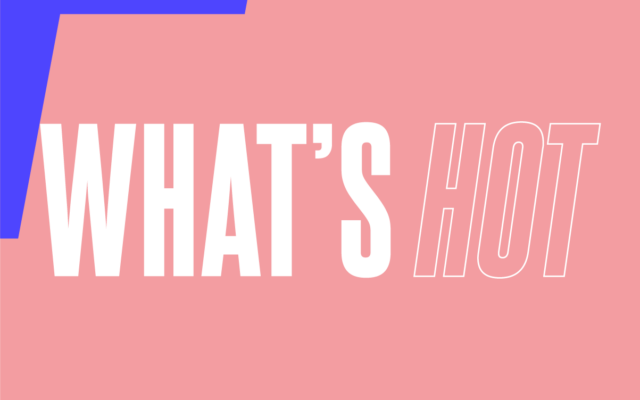 28/05/2021
What's hot this week? Smoothies, friends, TikTok and periods. Sounds like a standard bank holiday weekend to me…
Eurovision x Innocent Smoothies
0 points?! Really??
In the first Eurovision since we actually left the EU (not the first since the Brexit vote we know so don't @ us), we received 0 points… Coincidence? I think not. However, if you were anything like us, Eurovision itself wasn't the main evening entertainment – Innocent drinks took to Twitter with running commentary, providing us all with their comical, on point opinions and responses to the performance. (Let's be honest, they were the only reason we watched it the whole way through). We can't wait to see what next year's Innocent Smoothie Day Eurovision brings!
The one where they got back together
After a long 17 years, friends returned to our screens – not that any of them look different.  The episode took us back to the 90's with table reads, guest appearances and the inside gossip. But most importantly, one of the biggest unanswered questions from TV was finally answered: Rachel and Ross WERE on a break.
All that is left to find out is what actually happened to Jason and Uncle Bryn on THAT fishing trip.
You can catch the reunion on Sky and NOW!
Menstrual Hygiene Day
Today (28th May) marks Menstrual Hygiene Day, which arguably isn't a great name for such an important awareness day. With the average lifetime period cost accounting toa crazy £4,800 (wild right?), the brilliant Bloody Good Period organisation aim to bring awareness and fight for period equity, providing products to those that are unable to afford them. Celebrate MHD by donating today!
Bye bye likes
Whilst it's been tested for a while, Instagram has announced the next stage of the experiment is to provide all Facebook and Instagram users with the option of hiding their like counts on each post. The removal of likes is to help engage users with content instead of analysing the amount of likes the post gets. We can't wait to see which influencers jump onboard (and those that don't).
TikTok for Small Biz
TikTok has quickly become the platform to be on as a small business, with 83% of users saying TikTok plays a role in their purchases. It provides businesses with a unique platform to generate USG and BTS content to engage with the target audience. But what makes the perfect TikTok?
Jumping on relevant trends, sounds and hashtags with creative videos can help to reach a far larger audience. Showing your brands personality and relatability will also be key to improving your reach and awareness. For more information check out TikTok's official guide to Marketing on TikTok!
SUBSCRIBE TO OUR NEWSLETTER:
Categories