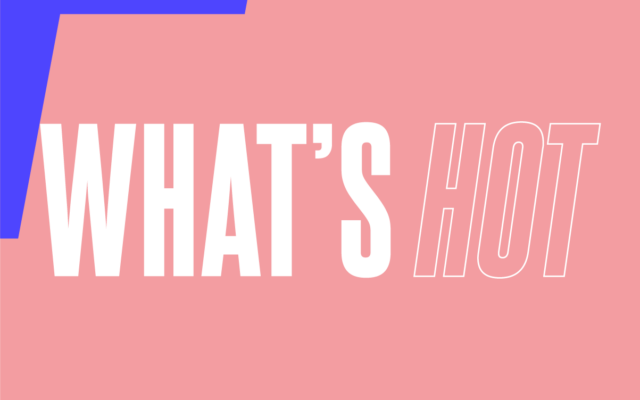 12/03/2021
Ease yourself out of work this Friday afternoon by finding out what's hot with us: Twitter trending, PR Week on the Palace, Instagram Lite, Big Tesco and proofing your work.
Finally, it has been a tough news week we know, with the news feeling personal for many, as well as deeply tragic. So, make sure this weekend, you take some time out, take care of yourself and give virtual hugs to all your loved ones.
Twitter Trending: Explained
Have you ever wondered what makes a news topic "trend" on Twitter? How sometimes the top trend has 100,000 tweets, then the one below (#ISupportPiers) has a measly 1,302?
This week, we took a look at the algorithm to find answers. Firstly, to trend, a topic needs to have a sharp spike – if the subject is a slowly growing matter over a month, it won't make trending (it's more likely news). If something has huge growth in under 24 hours, it's probably going to trend.
Secondly, your trends are tailored to you – who you follow, your interests, and your location. Now you're probably wondering who I'm following to see #ISupportPiers and all I can say is that it's important to follow people with different views and beliefs to your own, as they can either open your eyes to more of the world, or help confirm your own values. But for the record: I don't follow Piers Morgan. Never have. Never will.
The reason we decided to investigate Twitter Trending was this trend from this week:
No, we weren't looking at why they were trending. More that it was Mumford trending… with Sons. Alas, our attempt an investigative journalism failed. We simply couldn't find an answer to how this happened. Though we do feel a bit more comfortable that robots won't steal our jobs just yet.
The article to read: PR Week on the Palace
When Buckingham palace broke its silence this week, there was a mixed response.
It took just under 24 hours for the statement to come out after Harry and Meghan's interview aired in the UK, but you can bet that was a busy and bloody long day for the Palace's press team.
The carefully crafted (and seriously short) note addressed some of the more serious allegations made against the Crown in the interview, but was overall "pretty predictable" according to our MD Caroline Farley speaking to PR Week. Read her full review here.
The one the world needs: Instagram Lite
If you're wondering why Instagram needs a Lite version, then the simple answer is that this app isn't for you.
Many apps launch smaller versions which are more suitable for older models of phones, or families who may share their phones between them. These apps are usually popular in developing countries, so Lite apps are ideal ways to drive global growth and brand recognition.
Instagram Lite is 2MB, compared to the regular app's 30MB. It doesn't have ads or AR stickers, but it does have messaging, stickers, and Reels. This is actually a re-launch for Instagram Lite from last year, with the new versions only real change being adding Reels. There's rumours Insta did this because TikTok is currently banned in India and they want to grab the market share there first, which feels like a smart move.
The memes we needed to see: Buck Pal x Big Tesco
Okay, we KNOW one of the Friday Five already mentions the royal fallout, but it was a big deal okay!!
In our wildest dreams, we never could have imagined the memes.
Our favourite royal-themes internet discourses were:
The Oprah meme (Oprah responding to regular conversations)
Highlights include: Great Gatsby and Hunger Games versions
What will become of Bucking Palace?
Highlights include: A big Tesco, a massive Greggs, or asking Davina to try and sell it on Selling Sunset
Another show that enraged me: The Bold Type
This week, I managed to get angry about Emily in Paris again. And it wasn't even Emily's fault, for once.
No, this week I was trigged by the Bold Type, which dropped its fourth season last week. There are some similarities between BT and EiP: Both feature mid-twenties girls navigating big cities, who work in social media. (Ah, you say, that's why she's angry. No one wants the rights to Yla in London)
The personal difficulty I face watching these shows is mainly due to the fact that the writers for both failed to consult anyone who works in social (I also have a theory no women in their 20s were involved in the making of these shows but let's not get into my conspiracy).
For example, when Kat says "tonight, we're going to make tweets" ????
Or when her boss tells her the name of an article they're promoting, and requests "social media tie ins" with no further information ????
Or when she posts content directly onto Scarlet's (the magazine she works at) Instagram, that have not been reviewed by anyone at all, and are on unapproved topics ????
Please, please, please – can Netflix have someone proof their work?
SUBSCRIBE TO OUR NEWSLETTER:
Categories