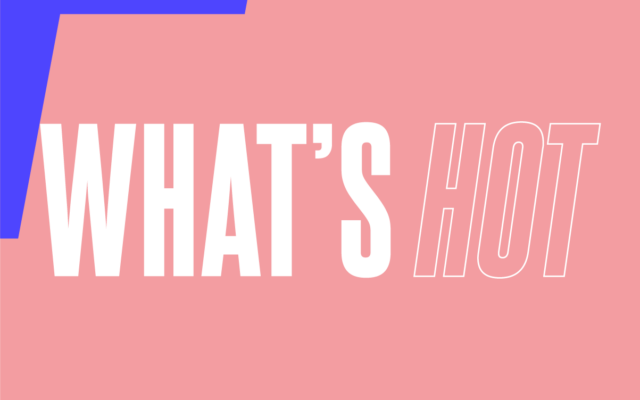 21/01/2022
This week, we're thanking God we're not engaged, heading to Nando's, fangirling on Instagram and thinking about a four-day week…
RIP Megan Fox's finger
It's day 1,000,000 in the hellhole we know as Megan Fox and Machine Gun Kelly's relationship. In 2020, we laughed off rumours that they were together. In 2021, we accepted that maybe there was a fling going on. In 2022 we watch a footlocker employee propose to Megan in a very strange video.
Everything I hear about these two is against my will (Will and Jada 2.0?) I did not want to know that they drank each other's blood during the engagement. I did not want to know that Megan's engagement ring has thorns inside, so it hurts to take it off. You probably did not want to know, but you are now cursed with knowledge.
So now we're all in the same boat, we can sit down and discuss: As an actress, how many times per year do we think she'll need to rip thorns off her ring finger for a scene?
Instagram tries to reduce bullying and hate speech
A brilliant update from Instagram this week. Previously, Instagram aimed to reduce hate speech and bulling by monitoring the posts of repeat offenders for similar phrases. This monitoring is now being applied to all new feed posts and Stories, looking for content similar to previous posts that have been reported.
Suspicious posts will not be deleted but will be sent to the bottom of your page by the algorithm, overall decreasing the number of eyes on a post and reducing the likelihood of it being reposted and shared widely.
Nando's just got hotter
The word on social this week is that Nando's is even better than you thought it was. No, we don't mean you're underestimating the sweet, sweet, chilli jam, halloumi, and peri-peri chicken. But actually, what Nando's does for the world.
For the last ten years, Nando's has worked directly with small-scale farmers via Regional Farming organisations, skipping the middle man when it comes to importing chillies. This means farmers are better looked after, paid far more, and receive payment even if they have a bad crop. You can find out about Growing for Good here and find your nearest Nando's here. Look at you, supporting farmers.
Instagram tests fan subscriptions
Are you the super fan of a fairly niche content creator? Well, this update is for YOU.
In another move to keep creators off TikTok, Instagram is now testing ways for creators to make even more cash from its app. Fans can 'subscribe' to the creator for a monthly fee, offering them access to subscribers-only lives, subscribers-only Stories and subscriber badges, a little purple crown next to their name when commenting on content/sending DMs – the aim of this is so the creator can spot their biggest fans and engage with them, as a way of thanking them for subscribing.
This is a great update for mid-size creators who have an established fan following but aren't megastars. They can continue sharing their regular content with all followers, then share more BTS everyday content ("here's how I make my morning coffee") with crazed super fans. They could also do Lives partnered with brands to offer their subscribers freebies and offers.
It'll be a struggle for smaller influencers however, who will need to balance audience growth with sharing exclusive content, all while most likely holding down a day job. It could be the case that this update leads to a bigger divide between mid and micro influencers, with the rich getting richer and the smaller influencers forced to wait to monetize their accounts. OR they could just post on TikTok…
Four is the new Five
A UK pilot of a four-day work week begins this summer, with employees receiving the same pay and benefits for a reduced 32-hour week*.
The test will assess workers' wellbeing and productivity, but also wider impacts e.g., the effect on the environment.
Are you taking part in this scheme? Yes? With great power comes great responsibility. Don't screw it up for the rest of us.
* However, it's worth noting that employers could still ask employees to work across five days… it's just max 32 hours.
SUBSCRIBE TO OUR NEWSLETTER:
Categories