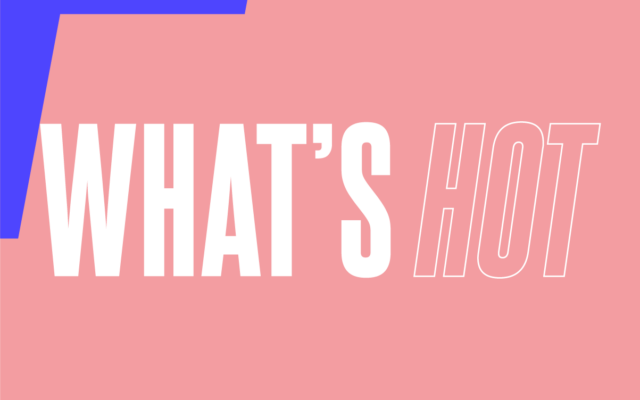 02/07/2021
Firstly, an apology, we did not do a What's Hot last week. But our eyes had not recovered from watching the Matt Hancock video (no we don't know why we watched it either) so we had to take some time away from our screens…
Anyway, moving on. This week, we're shopping black-owned on Instagram, assembling an IKEA sofa with plastic hands, following Twitter, attending careers fairs and OBVIOUSLY watching Love Island.
Also non humble brag coming up…but the hottest thing for us this week is that we won a PRCA Dare Award with our NOW client for our Zero Zero Zero campaign.
Oh and the football which reinforced why Gareth Southgate is a living legend and the Dad/Brother/Uncle we all want in our lives.
So enjoy the weekend, watch the footy (COME ON ENGLAND) and have a beer. We will be.
Instagram adds Black-Owned label
I'm sure we've all seen plenty of Insta-brands with 'Black-Owned' in their bio. Apparently Insta took notice, as it's now added a "Black-Owned" official label for profiles. Not only does this help people to identify Black-Owned businesses, but it also offers increased opportunities for the brand to be discovered via the Shop tab, where the label will be visible. The label is currently only available in the US but we're sure that the positive response and use of the label will mean it's global in no time.
IKEA's Loveseats
When I first heard IKEA was making Pride-themed sofas, I thought it was a joke. Then I heard they were love seats, and thought it was kind of sweet.
Then I saw them.
Unfortunately, I (like many people) first saw the loveseats as standalone images, which were very confusing. However, IKEA did release a video alongside the loveseats which did help to explain the designs, as each sofa is personalised to one individual's story.
The campaign explains that "there's more to pride than rainbows" and actually includes a range of flags, including the non-binary flag, the transgender flag, and more. However, the loveseats also include lots of strange extras, including cloud pillows, what appears to be plastic hands, and the bisexual sofa also says "nobody believes you" on it.
Refinery29's article highlights some of the queer community's reaction to these loveseats, which can be described as uncomfortable at best.
An account to follow: @Twitter
One of life's greatest injustices is that the Instagram account @instagram has 401 million followers, and the Twitter account @twitter has just 59 million.
You could argue that the @instagram account isn't a proper account – it's more of a "Best of Instagram" highlight reel with no new content. A re-sharing machine that churns out dog videos, beauty hacks and dancing that definitely appeared on TikTok first.
Meanwhile, @twitter, with the apt bio "what's happening?!" is a new content machine, with recent highlights including:
"you don't need an edit button, you just need to forgive yourself"
"zero likes is a vibe"
"everything is happening so much"
This past week, @twitter went off with new content, creating video assets focusing on furries, reply guys and NFTs – basically, anything anyone tweets about. The time and effort that goes into the account shouldn't go unnoticed, so go follow, favourite and retweet to your little hearts content.
The organisation 10,000 Black Interns is aiming to offer 2,000 internships for five consecutive years, with a pre-internship training process involving interviews, webinars, panel discussions, and mentor and buddy sessions.
Everything kicks off with a careers fair that is CURRENTLY ON! The point of the careers fair is for the potential interns to select the three industries they would like work experience in for their application. Some of our team will be representing the Advertising & Marketing industry on Tuesday, so make sure you share the fair far and wide!
Is it un-feminist that I love Love Island?
We all know that Love island is top-quality TV. Okay, perhaps an exaggeration. Maybe: We all know that Love Island is a Mega-Millions-Making Media Mammoth, that literally millions of people watch. So why does it feel so un-feminist to enjoy the show?
Is it the vapid conversations, the zoomed camera work showing girls getting dressed, or the weird sex-act games that you know their parents are watching?
After all, the show has fairly even stakes for men and women, and while women are punished on social media for the way they act, so are men, such as the entirely un-feminist Johnny and the wholly possessive Joe. Yes, these women set unrealistic body standards… but so do the men. Yes, all the women talk about is boys and relationships… but the vice-versa remains true, too.
Overall, I've decided you can balance being a feminist with loving Love island. And if you don't like it, I guess we're not coupling up.
Finally
It's coming home.
SUBSCRIBE TO OUR NEWSLETTER:
Categories