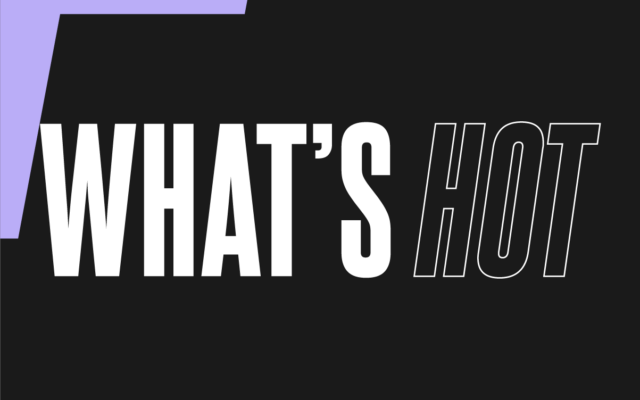 09/04/2021
This week, we're listening to a podcast that's, like, so random, celebrating Nicole Polizzi's career, looking at Pinterest's Creator Fund, following the Vagina Museum, and not opening Pandora's Box.
The one you need to listen to: Ja'miezing
Ja'mie King is back, but not to our screens, as you'd expect from someone so "quiche" – instead you can hear her dulcet tones via Apple Podcast. It's like, so random. Everyone's favourite private school girl has grown up, and funnily enough she's now studying PR at university. In fact, she's creating this podcast as part of her social media module.
We all know Ja'mie isn't for everyone. Chris Lilley's divisive characters constantly toe the line of what is and isn't, for lack of a better term, politically correct, and that's something Ja'mie immediately touches on at the start of the Podcast. She's "like, so woke now." Like most things that Ja'mie says, this is a lie. The 15-minute episode touches on her future unborn son, fillers, planning her 21st birthday party, and how she'll find a husband with money. For Chris Lilley fans, it's not to be missed. Everyone else – keep walking.
The comeback kid: Nicole Polizzi
Does the name Nicole Polizzi mean much to you? Similar to Steveland Judkins, Paul David Hewson, Mark Sinclair and Vera Chokalingham*, she often goes by a different name: Snooki.
Polizzi has been on a mad one this week, responding to every post featuring an image of her and explaining what exactly was going on in her life at that time.
Some are revealing, some funny, and some are sad – a healthy mix that sum up Snooki's experience of the limelight.
(*Real names of Stevie Wonder, Bono, Vin Diesel, Mindy Kaling, btw).
The creator fund we didn't know we needed: Pinterest
When you hear the term "creator fund" you probably think of TikTok's announcement last year. Or maybe you think of Instagram's hurried subsequent announcement (They already had one in the works guys, okay!! They weren't just gonna sit there and not give creators money! TikTok just annoyingly pipped them to the post, despite Instagram's six-year lead…It could happen to anyone).
Anyway, this week Pinterest announced a $500,000 creator fund, specifically for creators in underrepresented communities. The fund is currently only available in the US, and 50% of the partner creators come from diverse backgrounds. Not only did they receive funding, but also training and creative strategy consulting. It's a huge but thoroughly worthwhile investment from Pinterest and we can't wait to see which platform partners with its creators next.
Being fully vaccinated…
The phrase "being fully vaccinated" sounds like a pipe dream at this point, doesn't it? Well, rather than an aspiration, it's actually become a Twitter meme, with some personal highlights being:
Being fully vaccinated does NOT mean it's safe to open that box from Zeus and release all the evils into the world
Bring fully vaccinated does NOT mean Seth Rogen will come up behind you in the form of a ghost to sensually help you make vases as Unchained Melody plays in the background
The lesson? Don't get too cocky after you're fully vaccinated. Also never, ever, open Pandora's Box.
The TikTok account to follow: The Vagina Museum
I simply cannot shut up about the Vagina Museum. It's a fun day out for all the family – no, hear me out. Learning about the vagina is important for children, parents, teens, young adults, the whole family. I took a 28-year-old ex-boyfriend there who learned more about contraception on our visit than he'd ever learned in school.
What's in the museum? Actual fanny packs. A menstrual cup covered in red glitter. Intersectional, feminist, and trans-inclusive values. Plus, whatever exhibition is on at the time. When I went, it was debunking contraceptive myths.
I was so pleased to see the Vagina Museum launch its TikTok this week (@v_museum) with over 1.2 million views on a video already. So once museums open, grab your daughter, your neighbour, your wife, your grandad, and your ex-boyfriend, and bring them down to the Vagina Museum. I'm sure everyone will learn a lot.
SUBSCRIBE TO OUR NEWSLETTER:
Categories