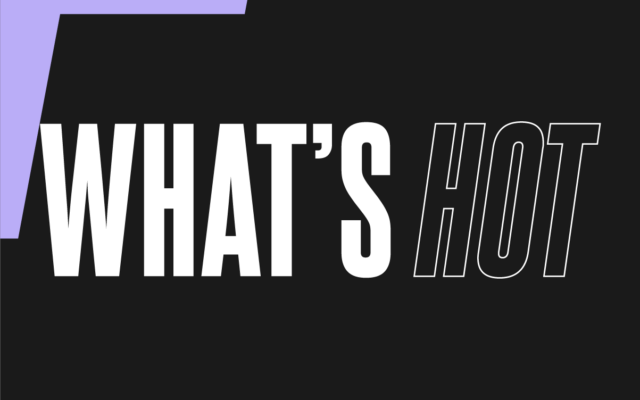 05/03/2021
What's hot this week? Beyond getting a half day holiday to celebrate Employee Appreciation Day (thanks Unlimited!) we're celebrating the return of BBC Three, WWF's eliminating animals for the day and Pinterest Presents. We also have mixed feelings about Fast Laughs and Molly Mae…
The impactful campaign to see: WWF's #WorldWithoutNature
WWF wiped out some of the world's animals this week. Not literally – that's like the opposite of what they do – but through a campaign in partnership with various businesses and teams who use animals as part of their logos.
Hootsuite, Middlesbrough FC, RSPB, Wolves, PG Tips, Brewdog and more removed the animals from their logos on Thursday, to show how uninspiring a world without nature is. Super simple and impactful – that's what we like to see.
The one to catch up on: Pinterest Presents
Pinterest boomed in 2020. We joined a talk by the company, which stated that searched went up 60% YoY in 2020, saved went up 30%, and creation of new boards went up 45%. It currently has 400 million global users, meaning its not to be ignored.
This week at Pinterest Presents, the company announced several new ad tools to provide more insight into campaign performance, video ad options, and an interactive trends tool. It's worth checking out.
The news we needed to hear: BBC 3
BBC Three is BACK baby! Has it really been six whole years we've been apart?
It's strange to think that when BBC Three left our (big) screens and moved to our (medium) screens, I was a teenager who truly didn't care. "BBC Three? What do they even show on there?" I scoffed, like the young uncultured swine I was.
But over the past few years, I've viewed more BBC Three than the other two combined (partially due to Bake Off saying sayonara); watching Fleabag, Normal People and RuPauls Drag Race online. But, with the introduction of smart TVs, I wasn't really watching them on my medium screen – they were blown up on our big old TV. So what's the difference?
The only thing missing was the appointment element of television, which I've always loved because I am the sort of person who checks #LoveIsland on Twitter during every commercial break. If we had an agreed time we all watched BBC Three shows (via programming), my housemate wouldn't have to ban herself from social media in the run up to watching RuPaul, through fear of seeing who faces the deadly lip-sync battle. What a gift BBC has bestowed upon us.
The new TikTok competitor: Fast Laughs
Netflix has a new feature: Full-screen, virtual short clips from its shows. It sort of makes sense that it's trying to copy the tried-and-tested TikTok and Reels use, and the user experience is actually crazy similar looking to TikTok, with the reaction buttons along the bottom right-hand side of the screen.
But Fast Laughs isn't user generated content, so it doesn't actually feel super TikTok-y. It's more akin to YouTube back in the day, when that was our source of movie clips. We're not sure how exactly shorts will be used (why not just watch the whole show?) but we'll keep an eye on it to see how it goes.
The one to watch out for: The ASA
Naughty-naughty Molly Mae had a real fall from grace this week. Only a few months ago we celebrated her social media savvy when she gained thousands of followers for a simple £8,000 giveaway, with an enviable ROI.
But this week the Advertising Standards Authority (they're the guys that brought us #ad, so we like them, even though they have a bossy name) said her prize draw was not administered fairly.
For these types of competitions, you need to be using random number generators and other such tools – which Molly did for part of the competition apparently but failed to prove that parts of the selection were random. This led to 12 people complaining. As Molly Mae hadn't done this competition as part of a paid promotion (e.g. on behalf of a brand), she stated that she didn't know she had to follow the ASA guidelines. Turns out Molly Mae wasn't the social media expect we hoped she was.
SUBSCRIBE TO OUR NEWSLETTER:
Categories