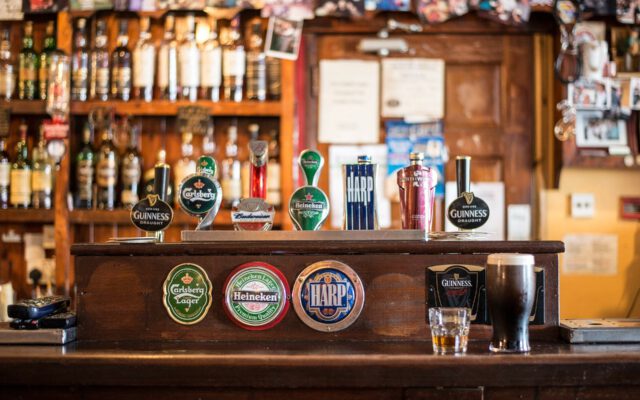 06/08/2020
Huzzah, it's World Beer Day on Friday – we'll drink to that!
To celebrate, we've been asking the Fever fam where their favourite place to grab a pint is. Spoilers: not many people shared places which actually read as simple 'get a pint' places. Turns out we can't get enough of cocktails. But beer is available at all of the venues.
Now what are you waiting for? Get out there and celebrate by raising a pint! Cheers.
People's Park Tavern in Victoria Park
Right in the park, huge outdoor area, arcade games, and they sell a rum, ginger and chilli drink. Divine.
GONG on 52nd floor of the Shard
Amazing views (obvs) and if you nab the right seat you can watch the trains snaking in and out of London Bridge, which is pretty hypnotic.
When it's warm, there is nowhere better for a chilled-out pint or organic Aperitivo than Grow in Hackney Wick (which is basically an allotment but with better vibes). They have terraced outdoor seating which overlooks the canal, live music and is a bit quieter than it's downstream rival Crate.
Cheap, cheerful, and delightfully tragic. Anywhere in London you can get a glass of wine for £3 is an absolute yes from me. And a bottle for £12?! Whaaaat.
If you're looking for a great night out in London with friends, you can't go past Archer Street (especially the Soho haunt). It's fun, it's classy and it's a damn good time. All the bartenders are performers in West End shows, so throughout the night will completely break out into song and dance and full performances to such fun songs that you can't help but dance along too!
The Fifth Floor
No, it's not some swanky, exclusive bar that has gone under the radar, it's literally the fifth floor of our Fever Soho office. Café by day, come the evening it turns into the go-to place to grab a bottle of beer for £2.50 or a large glass of wine for £3. Where else could you get that bargain in the centre of Soho?!
[Image unavailable. We have to keep some secrets]
SUBSCRIBE TO OUR NEWSLETTER:
Categories