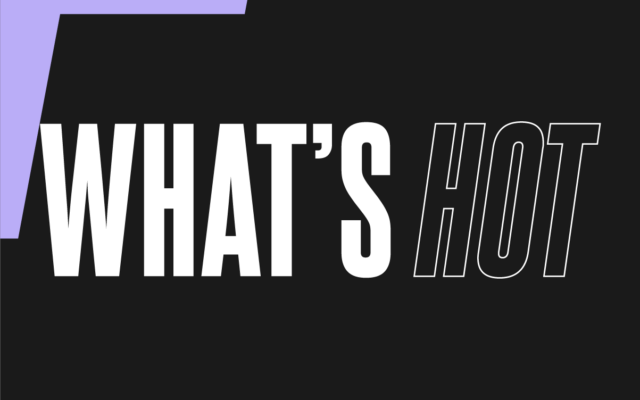 03/12/2021
This week, we're saying goodbye to a social media CEO, putting a stop to Will and Jada, tagging our mates on TikTok and looking at the bright side of life.
Jack Dorsey signs out of Twitter
This week, Twitter co-founder Jack Dorsey resigned as CEO. Dorsey has always been an, uh, divisive figure, and this isn't the first time he's quit as CEO. It's probably saying something that Jack Dorsey (or @jack) is something of a household name, whereas Noah Glass, Biz Stone and Evan Williams fade into obscurity, despite being Twitter's other co-founders. & the fact one of them is called Biz Stone, a really wicked name.
Jack is probably best known for slapping a big fat 'FACT CHECK' note on Donald Trump's tweets, and saying that as CEO he was accountable for misinformation on his platform (hear that Zuck?)
We're sort of sorry to see @jack go… But we know it isn't the last we'll see of him.
Petition to stop Will and Jada Smith
I have zero interest in Will and Jada Smith. After they named their kids Willow and Jaden, it was over for me. So why am I always reading disgusting details about their relationship on Twitter, Instagram and the Daily Mail's sidebar of shame? The headlines make me cover my eyes with my hands, then I click the link and peep through my fingers. It's like watching a car crash. I can't look away, but I want to forget it ever happened.
This week, a likeminded individual started a change.org petition to stop interviewing Will and Jada Smith. Sign it here and make it happen!!
Instagram extends stories
This update could kill me.
There are already people who use Instagram as a diary, and they're currently cut off at the 15 second mark, reminded that their soliloquy has gone on too long as they roll into the next frame. But now Instagram is testing SIXTY SECOND STORIES. That is not a Story. That is a TikTok! Someone call Snapchat and report this blasphemy. Who needs a 60 second Story? Truly?
I use those little lines at the top of the page to decide whether I'll keep watching a Story almost instantly. Born in the 90s, I am truly part of the Instant gratification generation, and if an influencer is posting a Story that's over 90 secs, I am not investing my precious time. Instead, I will use those cherished minutes to flick through the Stories of SIX other people. Time much better spent.
TikTok Taggin
Do you remember when Jonathan Cheban came into our lives? We didn't ask him to. He's just Kim Kardashian's best friend who started popping up everywhere – on her show, her Instagram, CBB UK, then suddenly he was on Gemma Collin's Stories too. We couldn't escape him (much like the intricacies of Will and Jada Smith's sex lives).
Jonathan became quasi famous by association. And now you can TOO with TikTok's new update! You can now tag other people in your TikTok's, whether you're a brand working with a creator, two best friends doing a dance, or you're the best friend of a super famous influencer waiting for your big break into fame, fortune and reality TV! Yay! Can't wait to see you on Love Island 2022 hun x
Always look on the bright side of life
This week, social media was booming with two guys on a bus. The meme – you know the one – shows one sad person on the left staring at a bad view of a mountain, and one happy person looking out at a sunny vista.
As with any meme, we couldn't help but wonder about the origin. This one surprised us; professional cartoonist Genildo Ronchi created it, with the title [English translation] "Sometimes it just depends on us". A good thought.
SUBSCRIBE TO OUR NEWSLETTER:
Categories